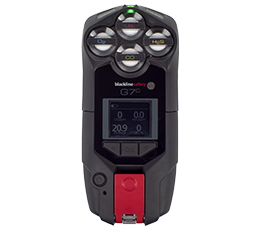 Industry-leading technology you won't find anywhere else. It's why G7 is the premier device for lone worker monitoring and personal gas detection.
Custom safety solutions | Lone worker to single, multi or quad gas with pump options and 20 sensors that support up to five gases.
Trustworthy protection | Poison-immune combustible gas monitoring with broad spectrum LEL detection.
Real-time visibility | Location-enabled technology gives you a comprehensive view of your worksite.
Help is always on the line | SOS latch, two-way voice and text communication, push-to-talk capabilities and Blackline's 24/7 Safety Monitoring Center ensure the wellbeing of your team.
Automated action | Automated check-ins, fall and no-motion detection, bump tests, calibration, gas exposure and more gives you control and peace of mind.
Data-driven decisions | Empower a proactive safety culture with gas, heatmap, alert and zone reports to make data-driven decisions.