Blackline Ranks No. 228 on the 2016 PROFIT 500
November 22, 2016
PROFIT magazine unveils 28th annual list of Canada's Fastest-Growing Companies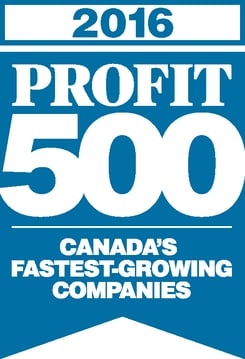 CALGARY, AB – Canadian Business and PROFIT today ranked Blackline Safety (TSX VENTURE:BLN) No. 228 on the 28th annual PROFIT 500, the definitive ranking of Canada's Fastest-Growing Companies. Published in the October issue of Canadian Business and at PROFITguide.com, the PROFIT 500 ranks Canadian businesses by their five-year revenue growth.
Blackline Safety made the 2016 PROFIT 500 list with five-year revenue growth of 243%.
"Companies become a part of the PROFIT 500 through innovative thinking, smart strategy and sheer grit," says James Cowan, Editor-in-chief of PROFIT and Canadian Business. "These firms demonstrate what Canadian entrepreneurs can achieve, both at home and across the globe."
"Ranking on the PROFIT 500 list for a fourth straight year highlights the value customers see in our growing family of connected safety products," says Cody Slater, CEO and Chairman of Blackline Safety. "This recognition helps to remind us of our mandate to increase workplace safety by solving real-world client problems. Blackline has big plans in store for the fall - a new generation of technology will launch, propelling connected safety into the future with never seen-before capabilities."
Blackline Safety has launched a teaser campaign to promote the launch of its next generation safety technology.
Blackline's broad safety monitoring portfolio empowers organizations in all industries and geographic locations with real-time safety incident awareness, delivering help within minutes instead of hours or potentially days later. To learn more about Blackline's work-alone safety monitoring solutions, visit www.BlacklineSafety.com and follow Blackline on Twitter @blacklinesafety.
---
About PROFIT and PROFITguide.com
PROFIT: Your Guide to Business Success is Canada's preeminent media brand dedicated to the management issues and opportunities facing small and mid-sized businesses. For 34 years, Canadian entrepreneurs across a vast array of economic sectors have remained loyal to PROFIT because it's a timely and reliable source of actionable information that helps them achieve business success and get the recognition they deserve for generating positive economic and social change. Visit PROFIT online at PROFITguide.com.
About Canadian Business
Founded in 1928, Canadian Business is the longest-serving, best-selling and most-trusted business publication in the country. With a readership of more than 1.1 million, it is the country's premier media brand for executives and senior business leaders. It fuels the success of Canada's business elite with a focus on the things that matter most: leadership, innovation, business strategy and management tactics. We provide concrete examples of business achievement, thought-provoking analysis and compelling storytelling, all in an elegant package with bold graphics and great photography. Canadian Business-what leadership looks like.
About Blackline: Blackline Safety Corp. (TSX VENTURE:BLN) is a wireless location leader that develops, manufactures and markets products and services for lone worker safety monitoring. Targeting every industry, employee role and location, our Loner® solutions are promoted through offices in Calgary, Los Angeles and the United Kingdom, and sold through a growing network of international resellers. Loner products alert monitoring personnel of a safety incident, locate the employee and empower the most efficient emergency response - Alert. Locate. Respond.™ Our vision is to become the leading supplier of wirelessly connected lone worker safety monitoring products in the world. For more information, visit www.BlacklineSafety.com.
Neither TSX Venture Exchange nor its Regulation Services Provider (as that term is defined in the policies of the TSX Venture Exchange) accepts responsibility for the adequacy or accuracy of this release.
← Back to Newsroom