Blackline Safety delivers world's first intrinsically safe, cellular-connected, portable gas detector
February 13, 2017
With North American intrinsic safety certification, G7c is ready to bring connected safety to the industrial world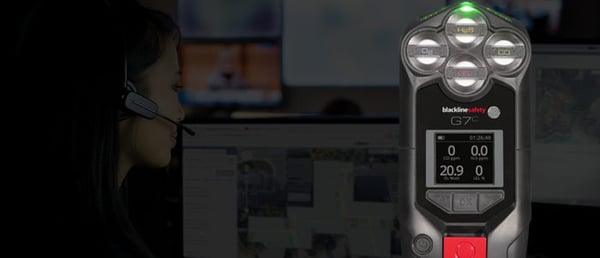 CALGARY, ALBERTA—(Marketwired – Feb. 13, 2017)
Blackline Safety ("Blackline") (TSX VENTURE:BLN) has received intrinsic safety certification for its new G7c wirelessly connected safety device with proprietary technology. This certification offers an industry-first solution for gas detection in municipality, utility, water/waste water, chemical, energy and many other sectors. Employees working in these sectors are required to wear a gas detector as they operate in areas where the risk of exposure to toxic or explosive gases is high. Traditional employee-worn gas detectors were 'disconnected' such that they offered only an audible alarm that the person wearing the device could hear. This often left an employee alone with no way to reach help in a toxic or hazardous gas environment.
"We have all heard of the situation where an individual in a plant or a facility succumbs to either lack of oxygen or the presence of a toxic gas," says Cody Slater, CEO and Chairman of Blackline Safety. "In too many cases, by the time anyone else is aware the worker is in danger, it is too late. With G7c, we can not only alert others instantly when a worker is in trouble but direct the right help to them, potentially saving their life. This is what true connected safety means for the workplace."
G7c is the only portable gas detector available with cellular connectivity, an internal speakerphone and two-way live voice calling. Should an employee call for help using the SOS latch, a fall be detected - or a high gas alert be triggered - the monitoring team will automatically call the employee, increasing situational awareness and the ability to deliver an optimized emergency response to the employee's exact location.
To maximize equipment uptime, G7c incorporates field-replaceable gas sensor cartridges. Businesses no longer need to purchase 'back-up' gas monitors to ensure continuous employee monitoring when gas detectors require servicing. Each cartridge ships pre-calibrated from Blackline's in-house manufacturing center, making cartridge replacement a quick and easy task in the field. Single-gas and quad-gas cartridge options meet diverse customer requirements with a broad choice of gas sensors available today and more to be added in the coming months.
"G7c's unique cartridge-based interface enables customers to select the functionality that meets their requirements while bundling cartridges with their G7c service plan," says Sean Stinson, VP Sales and Product Management. "This approach provides gas detection to customers as a service offering with lifetime replacement of cartridges so they never have to purchase replacement gas sensors again."
Other notable G7c advantages include:
Automatic incident detection that include gas alarms (high, low, time weighted average, and short-term exposure limits), falls, man-down (motionless)
Push-button check-ins to eliminate the need for time-consuming phone or radio check-in calls
Cloud-hosted monitoring portal with alert management, real-time map, historical view, configuration management, user-access controls and an employee address book
Automatic, over-the-air configuration changes and firmware updates to ensure each G7c is ready to go
Real-time compliance dashboard that shows safety managers which devices are compliant, which devices have approaching calibration or bump test due dates and when a device is out of compliance
Custom floor plans and map overlays that display employee locations in context of their surroundings
A choice of self-monitoring or use of Blackline's in-house 24/7 live monitoring service
Geo-referencing of every gas reading to produce heat maps of potential leaks, helping to plan proactive maintenance
Certified intrinsically safe in North America with a Class I, Division 1, Groups A, B, C and D rating
To learn more about Blackline's employee safety monitoring solutions, visit www.BlacklineSafety.com and follow Blackline on Twitter @blacklinesafety.
About Blackline Safety: Blackline Safety is a global connected safety technology leader. We help businesses respond to emergencies in real-time and manage efficient evacuations, accounting for everyone's safety along the way. With millions invested in technology research and development, Blackline Safety is recognized for quality and innovation. Our strong team of designers and engineers create and manufacture everything in-house - from wearable technology and personal gas detection to cloud-hosted infrastructure and web-based interfaces in Calgary for global industry. With service in over 200 countries, we are the only provider of industrial-grade, turn-key, work-anywhere connected safety monitoring solutions that delivers a seamless solution to meet demanding safety monitoring challenges of organizations throughout the world. Alert. Locate. Respond.™ For more information, visit www.BlacklineSafety.com.
Neither TSX Venture Exchange nor its Regulation Services Provider (as that term is defined in the policies of the TSX Venture Exchange) accepts responsibility for the adequacy or accuracy of this release.
← Back to Newsroom