Blackline Safety earns TMA Five Diamond designation
April 24, 2018
Only center that monitors employee-worn safety devices to achieve designation of excellence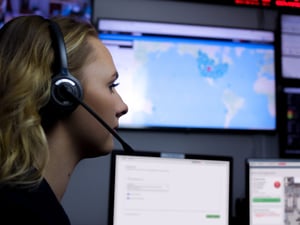 Calgary, AB — Blackline Safety's in-house, 24/7 live Safety Operations Center (SOC) has achieved the prestigious Five Diamond designation from The Monitoring Association (TMA) — an internationally-recognized non-profit trade association with nearly 450 member companies. Incorporated over 60 years ago, TMA grants the Five Diamond designation annually to monitoring centers demonstrating superior service through time, investment and commitment to superior training standards.
To qualify, monitoring centers must successfully demonstrate commitment to TMA's "five points of excellence":
Ongoing job-related education and testing, certifying 100% of its monitoring center operators using the TMA best practices training program
Random inspections and quality criteria standards by a nationally recognized testing laboratory such as FM Approvals, Intertek/ETL and UL
Raising the industry standards through TMA membership and participation in its activities
Reducing false dispatches
Displaying the highest levels of customer service
The Five Diamond designation emphasizes the importance of maximum productivity for customers and first responders, through optimizing alert management.
"With over 26.5 million total hours monitoring the safety of people in the field, our SOC has shown it has the experience and quality The Monitoring Association is looking for when awarding the Five Diamond status," said Kevin Meyers, Chief Operating Officer at Blackline Safety. "Our team has resolved nearly 90,000 alerts since its inception in 2015, responding to 99.7% of alerts in less than one minute." He added, "Our SOC agents manage every alert from onset through to resolution, with the ability to escalate to local emergency services throughout the United States and Canada."
Blackline's professional SOC agents are the first point of contact for an employee in distress, delivering peace of mind while also filtering out false alerts. Unlike traditional call centers that often split focus between telemarketing or IT support, Blackline's SOC is staffed with professionally-trained agents focused exclusively on monitoring worker safety.
To qualify for Five Diamond certification, agents must complete TMA's monitoring center operator course, which covers standards for communications with customers, police, fire and emergency medical services. Monitoring centers must also demonstrate:
Proficiency in alarm confirmation process, to reduce false alarms
Excellent communications with Public Service Answering Points, such as the Emergency 9-1-1 centers
Knowledge of electronic communications equipment, including, cellular, radio and internet communication systems
An understanding of the codes and standards of such organizations as Underwriters Laboratories, Factory Mutual, the National Fire Protection Association and others
Proficiency in the area of emergency preparedness under a wide scenario of possibilities
Located in-house at Blackline's headquarters in Calgary, Canada, the SOC receives alerts from around the world, easing the burden on field teams' supervisors and managers. Blackline's G7 employee-worn devices automatically communicate every alert to monitoring personnel via cellular or satellite connectivity, providing them with critical insights for empowered emergency responses. Whenever and wherever they may be working, an employee's call for help will never go unanswered.
About The Monitoring Association The Monitoring Association (TMA), formerly the Central Station Alarm Association (CSAA), is an internationally-recognized non-profit trade association that represents professional monitoring companies, including those listed by a TMA-approved Nationally Recognized Testing Laboratory, such as FM Global, Intertek/ETL or UL. Incorporated in 1950, TMA is legally entitled to represent its members before Congress and regulatory agencies on the local, state and federal levels, and other authorities having jurisdiction (AHJs) over the industry. TMA's mission is to advance the professional monitoring industry through education, advocacy, and public safety relationships. www.tma.us.
About Blackline Safety Blackline Safety is a global connected safety technology leader. Providing comprehensive live-monitoring and wireless gas detection, we help teams working in hazardous environments respond to emergencies in real-time and manage efficient evacuations, accounting for everyone's safety along the way. With millions invested in technology research and development, Blackline Safety is recognized for quality and innovation. Our talented team of designers and engineers create and manufacture in-house — from wearable technology and personal gas detectors to cloud-hosted infrastructure and web-based interfaces for global industry. We deliver the world's first turn-key, work-anywhere connected safety monitoring solution with gas detection, 3G wireless, satellite communications, two-way speakerphone, employee messaging and live monitoring to meet the demanding safety challenges of organizations in over 100 countries. For more information, visit www.BlacklineSafety.com.
Neither TSX Venture Exchange nor its Regulation Services Provider (as that term is defined in the policies of the TSX Venture Exchange) accepts responsibility for the adequacy or accuracy of this release.
← Back to Newsroom