Blackline Safety ends 2017 with $11.6M revenue driven by new G7 product line
February 8, 2018
Q4 revenue doubles compared to same quarter prior year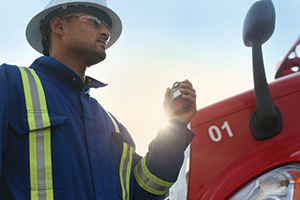 Calgary, AB — Blackline Safety Corp. (TSX Venture: BLN), a leading manufacturer of connected worker safety monitoring solutions, announced record fourth quarter and annual results for its fiscal year ended October 31, 2017.
"Significant growth throughout the year was met with a dramatic increase in fourth quarter revenue, driven by deployment of the G7 product to over 100 customers, including a major order from a utility customer with a five-year service commitment," said Cody Slater, Blackline Safety CEO and Chairman. "Blackline's fiscal 2017 was a milestone year that culminated in the release, global certification and initial customer orders of our revolutionary G7 product family." He added, "For the first time ever, businesses can deploy a turnkey wireless safety system, delivering unparalleled features and modularity to comprehensively monitor the wellbeing of personnel, including their potential exposure to hazardous gasses."
"With a strong cash balance, fully-commercialized G7 portfolio, targeted product development program, expanding sales force and growing distribution network, we are well positioned to leverage our lead in the connected safety market and deliver another record year in our fiscal 2018," said Slater.
Highlights
Annual total revenue of $11.6M, a 45% increase over the prior year
Annual product revenue of $4.2M, a 96% increase over the prior year
Annual service revenue of $7.4M, a 26% increase over the prior year
Fourth quarter total revenue of $4.3M, a 105% increase over the prior year's Q4
Fourth quarter product revenue of $2.1M a 262% increase over the prior year's Q4
Fourth quarter service revenue of $2.1M, a 43% increase over the prior year's Q4
Contracted future service revenue grew to $4.4M, a 118% increase over the prior year
G7c named New Product of the Year by OH&S magazine
Ranked on the PROFIT 500 list of fastest-growing companies for the fifth consecutive year
The subsequent values in this release are in thousands, except for percentages and per share data.
Financial Highlights
Quarter Ended October 31
Year Ended October 31
2017
2016
Change
2017
2016
Change
Revenue
$4,277
$2,086
105%
$11,619
$8,001
45%
Gross Margin
$1,880
$827
127%
$5,122
$3,848
33%
Gross Margin Percentage
44%
40%
11%
44%
48%
(8)%
Net Loss
($2,678)
($2,126)
(26)%
($8,565)
($6,692)
(28)%
Net Loss excluding stock- based compensation expense
($1,800)
($2,071)
13%
($6,947)
($6,446)
(8)%
Adjusted EBITDA
($621)
($755)
18%
($1,959)
($1,422)
(38)%
Loss per Share
($0.08)
($0.07)
($0.27)
($0.26)

Annual revenue for fiscal 2017 was $11,619 compared to $8,001 in the prior year, resulting in an increase of 45% or $3,618. Service revenue was $7,386, an increase of 26% compared to $5,847 in the year prior. These increases were driven by strong product sales in the fourth quarter and by customers continuing to adopt the Blackline Complete leasing program that eliminates up-front capital costs and provides customers with a comprehensive safety monitoring program for a monthly fee during a 36-month term.
Fourth quarter revenue was $4,277, an increase of 105% from $2,086 in the comparable quarter of the prior fiscal year. Service revenue during the quarter increased 43% to $2,139 from $1,495 in the same period last year, attributed to new service activations by end customers.
Product revenue during the fourth quarter was $2,138, an increase of 262% compared to $591 in the comparable quarter of the prior fiscal year. This increase was driven by shipments of Blackline's G7c and G7x products, including a significant, previously-announced wireless gas detection sale to a North American utility company.
Contracted future service revenue, representing the value of future Blackline Complete lease commitments, was $4,378 as at October 31, 2017, an increase of 118% from $2,011 in the prior year.
Gross margin for the fourth quarter was $1,880 compared to $827 in the comparable quarter of the prior year. The resulting gross margin of 44% was higher than the 40% level achieved in the same quarter of fiscal 2016 and equal to the margin achieved during the third quarter of this year. The fourth quarter margin was impacted by an inventory provision taken for a product line no longer actively marketed, plus the temporary factors that impacted quarterly gross margin this fiscal year including:
Initial costs associated with setting up G7c, G7x and G7 Dock manufacturing lines
A higher volume of heavily-discounted G7c and G7x sales kits that were sold through to reseller partners to facilitate end-customer field demonstrations
A significant driver of the increase in expenses during the current year was the impact of additional stock-based compensation expenses, with $1,618 incurred in the current year compared to $246 in the prior year, primarily due to stock options granted in the first and fourth quarters.
Adjusted EBITDA was $(621) for the fourth quarter compared to $(755) in the comparable quarter of the prior year. The improvement in the Adjusted EBITDA in the quarter is a result of an increase in revenues and decreased product development costs in the period, partially offset by increased selling, general and administrative expenses quarter-over-quarter.
Blackline's audited consolidated financial statements and management's discussion and analysis on financial condition and results of operations for the year ended October 31, 2017 are available at www.sedar.com. All results are reported in Canadian dollars. To learn more about Blackline Safety, visit www.blacklinesafety.com and follow Blackline on Twitter @blacklinesafety.
About Blackline Safety: Blackline Safety is a global connected safety technology leader. Providing comprehensive live-monitoring and wireless gas detection, we help teams working in hazardous environments respond to emergencies in real-time and manage efficient evacuations, accounting for everyone's safety along the way. With millions invested in technology research and development, Blackline Safety is recognized for quality and innovation. Our talented team of designers and engineers create and manufacture in-house — from wearable technology and personal gas detectors to cloud-hosted infrastructure and web-based interfaces for global industry. We deliver the world's first turn-key, work-anywhere connected safety monitoring solution with gas detection, 3G wireless, satellite communications, two-way speakerphone, employee messaging and live monitoring to meet the demanding safety challenges of organizations in over 200 countries. For more information, visit www.BlacklineSafety.com.
Neither TSX Venture Exchange nor its Regulation Services Provider (as that term is defined in the policies of the TSX Venture Exchange) accepts responsibility for the adequacy or accuracy of this release.
← Back to Newsroom