Blackline Safety lone worker monitoring solutions earn BS8484 certification
May 18, 2016
Expanding UK marketplace benefits from dedicated lone worker devices and indoor location technology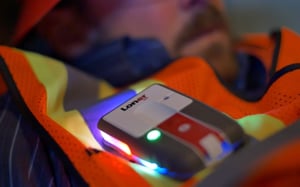 Colchester, United Kingdom—Today, Blackline Safety Corp. (TSX Venture: BLN), announces that it has received British Standard 8484: 2011 (BS8484) accreditation for its lone worker monitoring solutions from the SSAIB (Security Systems & Alarms Inspection Board). BS8484 defines the industry-leading code of practice for lone worker equipment and monitoring services in the United Kingdom.
"With approximately 15 percent of employees working alone, our new BS8484 accreditation gives customers confidence that our Loner® solutions meet and exceed industry requirements," says Gavin Boorman, Managing Director at Blackline Safety Europe. "Coupled with our Alarm Receiving Centre partner monitoring services, Blackline delivers the fastest possible emergency response for every industry, employee role, location and scenario."
"BS8484 accreditation enables certified service suppliers to bring the highest level of police response—Level 1—not normally available through the 999 or 101 systems," says Patrick Dealtry, Lone Worker Consultant at Lone Working Group Ltd. "Before the police commit themselves to this level of response they need to know that such a request has been verified as genuine, which means that it comes from an organisation that meets BS8484."
Blackline Safety offers the industry's largest portfolio of lone worker monitoring solutions to meet the diverse requirements of customers in every industry. Now shipping, Blackline's new Loner M6 device features a blue LiveResponse™ light that confirms to the lone worker that help is on the way. It also incorporates an industry-leading speakerphone system that projects the monitoring agent's voice loudly and clearly while capturing the employee's voice through a sensitive microphone. All phone calls are automatically recorded within monitoring infrastructure and available as part of Blackline's comprehensive reporting capability.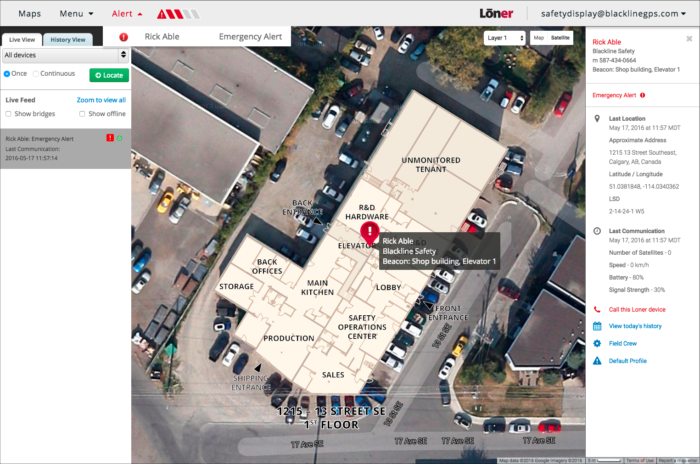 Loner M6 is compatible with Blackline's indoor location beacon technology that accurately maps the location of employees working inside commercial and industrial buildings using an interactive Google™ map. Loner M6 uses GPS satellite signals to accurately map an employee's location when working outdoors, however GPS signals alone are unreliable or not available when working indoors. For the fastest indoor emergency response, Loner M6 and Blackline's location beacon technology support custom floor plans to display a lone worker's position on in context of surroundings and evacuation routes.
Blackline's broad safety monitoring portfolio empowers organizations in all industries and geographic locations with real-time safety incident awareness, delivering help within minutes instead of hours or potentially days later. To learn more about Blackline's work-alone safety monitoring solutions, visit www.BlacklineSafety.com and follow Blackline on Twitter @blacklinesafety.
About Blackline: Blackline Safety Corp. (TSX.V: BLN) is a wireless location leader that develops, manufactures, and markets products and services for lone worker safety monitoring. Targeting every industry, employee role and location, our Loner® solutions are promoted through offices in Calgary and the United Kingdom and sold through a growing network of international distributors. Loner products alert monitoring personnel of a safety incident, locate the employee and empower the most efficient emergency response—Alert. Locate. Respond.™ Our vision is to become the leading supplier of wirelessly connected lone worker safety monitoring products in the world. Visit www.BlacklineSafety.com.
Neither TSX Venture Exchange nor its Regulation Services Provider (as that term is defined in the policies of the TSX Venture Exchange) accepts responsibility for the adequacy or accuracy of this release.
###
Blackline Safety Europe Ltd.
Gavin Boorman, Managing Director
gboorman@blacklinesafety.com
Unit 11, Wakes Hall Business Centre Wakes Colne Colchester, Essex CO6 2DY
UK Telephone: +44 1787 222684
Blackline Safety Corp.
Cody Slater, CEO & Chairman
cslater@blacklinesafety.com
Telephone: +1-403-4510327
Kelly Meyers, Media Relations
kellymeyers@blacklinesafety.com
Telephone: +1-403-605-4156
Unit 101, 1215 13 Street SE Calgary, AB Canada T2G 3J4
Telephone: +1 403 605 4156
Fax: +1 403 451 9981
← Back to Newsroom