Blackline Safety receives $2.3M wireless gas detection order
August 2, 2017
Leading global utility company adopts the world's first 3G-connected wireless gas detection system with two-way voice calling and live monitoring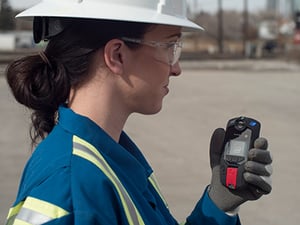 Calgary, AB — Blackline Safety Corp. (TSX VENTURE: BLN, "Blackline") has received a purchase order for G7c products and services totaling $2.3M.
"Blackline's worker-worn G7c is the first connected safety solution to incorporate 3G wireless, a two-way speakerphone and modular gas detection that customizes to meet the needs of every business," says Cody Slater, CEO and Chairman at Blackline Safety. "Blackline has made it very easy for industrial leaders to invest in smart safety technology that works right out of the box. Without the need for Wi-Fi networks, G7c is completely self-contained and accounts for the wellbeing of every team member, at every moment throughout 3G coverage."
"Blackline's new employee-worn G7c wireless gas detection and lone worker monitoring system is successfully displacing the use of traditional disconnected gas detection equipment," said Sean Stinson, VP Sales & Product Management. "No matter if an employee faces the unfortunate encounter of a gas leak, injury, fall or health event — Blackline responds in seconds, communicating with the worker via two-way speakerphone, assessing the situation in real-time and directing help to the individual's exact location."
Blackline's G7 portfolio of products and services can make the difference between rescue and recovery for personnel working in the field, throughout facilities and in the most remote reaches of our planet. G7c alerts monitoring personnel who manage a real-time emergency response directly to the employee's location, dispatching nearby co-workers or local emergency services as required. The Blackline Live online portal manages G7c devices in the field, providing safety and operations teams with the tools to manage a world-class connected safety system, including configuration, monitoring and reporting.
A suite of field-replaceable cartridges customizes G7c capability, providing gas detection and lone worker monitoring capability. For wireless gas detection scenarios, customers are offered a choice of gas sensor options, including hydrogen sulfide (H2S), oxygen (O2), carbon monoxide (CO), combustible gases (lower explosive limit, or LEL), chlorine (CL2), ammonia (NH3) and sulfur dioxide (SO2). Industry requires that each sensor be periodically calibrated and regularly tested to ensure correct operation before use. An optional G7 Dock helps businesses streamline gas calibration and testing with an affordable and compact testing station. G7c communicates every gas calibration and bump test wirelessly to the Blackline Safety Network for real-time compliance reporting.
G7c is globally certified intrinsically safe with wireless coverage in over 100 countries. To learn more about Blackline's employee safety monitoring solutions, visit www.BlacklineSafety.com and follow Blackline on Twitter @blacklinesafety.
About Blackline Safety: Blackline Safety is a global connected safety technology leader. Providing comprehensive live-monitoring and wireless gas detection, we help teams working in hazardous environments respond to emergencies in real-time and manage efficient evacuations, accounting for everyone's safety along the way. With millions invested in technology research and development, Blackline Safety is recognized for quality and innovation. Our talented team of designers and engineers create and manufacture everything in-house — from wearable technology and personal gas detectors to cloud-hosted infrastructure and web-based interfaces for global industry. We deliver the world's first turn-key, work-anywhere connected safety monitoring solution with gas detection, 3G wireless, satellite communications, two-way speakerphone, employee messaging and live monitoring to meet the demanding safety challenges of organizations in over 200 countries. For more information, visit www.BlacklineSafety.com.
Neither TSX Venture Exchange nor its Regulation Services Provider (as that term is defined in the policies of the TSX Venture Exchange) accepts responsibility for the adequacy or accuracy of this release.
← Back to Newsroom