Blackline Safety takes home third New Product of the Year award
September 22, 2016
Loner M6 innovation recognized by Occupational Health & Safety Magazine
Calgary, AB- Today Blackline Safety Corp. (TSV VENTURE: BLN) announces that its Loner Bridge System was recognized as the leading safety product of 2016, in the 'Safety Monitoring Device­s' category, by Occupational Health & Safety Magazine.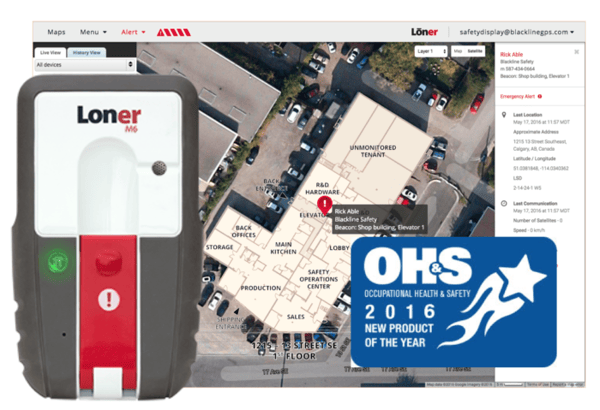 "Now in its eighth year, our New Product of the Year contest is a highly significant event for safety manufacturers, who submitted a record 84 entries this year," said OH&S Editor Jerry Laws. "The exceptional quality and breadth of the 2016 entries is a testament to the ingenuity of these manufacturers as they compete in this fast-growing global market."
"It's a high functioning safety system, but what makes it award-worthy is the unmatched level of service provided combined with the total ease of use and implementation," said Director of User Experience, Phil Benson.
Loner M6 was designed to monitor the safety of lone workers in the field, inside facilities and while driving. Featuring a combination of automatic and manually triggered safety features, the newest of which is two-way voice calling with an industry-leading speaker design. The M6 also features a LiveResponse indicator– a blue light that activates when the live monitoring team has received the safety alert and initiated the emergency response process. This powerful combination of technologies combined with assisted-GPS location technology brings the most robust safety device to the market.
To learn more about Blackline's work-alone safety monitoring solutions, visit www.BlacklineSafety.com and follow Blackline on Twitter @blacklinesafety.
About Blackline: Blackline Safety Corp. (TSX.V: BLN) is a wireless location leader that develops, manufactures and markets products and services for lone worker safety monitoring. Targeting every industry, employee role and location, our Loner® solutions are promoted through offices in Calgary, Los Angeles and the United Kingdom, and sold through a growing network of international resellers. Loner products alert monitoring personnel of a safety incident, locate the employee and empower the most efficient emergency response — Alert. Locate. Respond.™ Our vision is to become the leading supplier of wirelessly connected lone worker safety monitoring products in the world. For more information, visit www.BlacklineSafety.com.
Neither TSX Venture Exchange nor its Regulation Services Provider (as that term is defined in the policies of the TSX Venture Exchange) accepts responsibility for the adequacy or accuracy of this release.
← Back to Newsroom