Blackline Safety offers world's first BS8484-certified gas detector
April 10, 2018
G7c is the only industrial-grade safety wearable for lone workers with 3G wireless, voice calling and plug-and-play gas sensor cartridges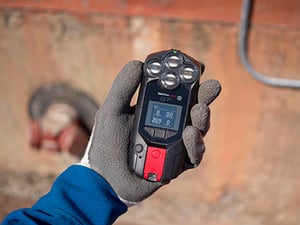 Birmingham, United Kingdom — At the Health & Safety Event, one of the UK's premier safety conferences and exhibitions, Blackline Safety Corp. (TSX Venture: BLN) announces that its G7c lone worker monitor and wireless gas detector system is the only solution of its kind to have achieved certification to the latest British Standard — BS8484: 2016. As a leading manufacturer of connected worker safety monitoring solutions, this updated standard provides Blackline's customers with confidence that G7c addresses best practices defined by BS8484: 2016.
"Workplaces in the United Kingdom are consistently among the world's safest, and for good reason," said Gavin Boorman, Managing Director at Blackline Safety Europe, Ltd., a subsidiary of Blackline Safety Corp. "Our stringent safety regulations help to ensure that we consistently achieve success in keeping people safe while at work. G7c is the first product of its kind to be certified according to BS8484: 2016 for use in the energy sector, water/wastewater, utilities and telecom." He added, "Workers in these industries often work alone with large separations between co-workers, meaning a quick response requires despatch of police or ambulance services. Initiating a police Level 1 response can only happen when a product and service provider are BS8484: 2016 certified, bypassing entirely the potentially slow 999 service."
ATEX Zone 0 certified, Blackline's G7c combination lone worker monitor and wireless gas detector is a wearable device that connects lone workers and those using gas detection equipment with a live monitoring team who can manage an efficient emergency response. G7c features fall detection, man-down (motionless) detection and scheduled employee check-in requests. It is the first and only solution on the market with plug-and-play cartridges that enable expansion beyond lone worker functionality, with the inclusion one or more environmental gas sensors. Unlike a traditional gas detector, G7c alerts a live monitoring team when gas levels reach a dangerous or unhealthy threshold.
Blackline Safety is demonstrating G7c to visitors of the Health & Safety Event at the NEC in Birmingham, United Kingdom from 10 – 12 April, 2018. At Blackline's stand HS92, visitors will be able to learn more about G7c, it's plug-and-play cartridges, gas detection, cloud-hosted monitoring software, compliance reporting and analytics.
To learn more about Blackline Safety, visit www.blacklinesafety.com and follow Blackline on Twitter @blacklinesafety.
About Blackline Safety: Blackline Safety is a global connected safety technology leader. Providing comprehensive live-monitoring and wireless gas detection, we help teams working in hazardous environments respond to emergencies in real-time and manage efficient evacuations, accounting for everyone's safety along the way. With millions invested in technology research and development, Blackline Safety is recognized for quality and innovation. Our talented team of designers and engineers create and manufacture in-house — from wearable technology and personal gas detectors to cloud-hosted infrastructure and web-based interfaces for global industry. We deliver the world's first turn-key, work-anywhere connected safety monitoring solution with gas detection, 3G wireless, satellite communications, two-way speakerphone, employee messaging and live monitoring to meet the demanding safety challenges of organizations in over 200 countries. For more information, visit www.BlacklineSafety.com.
Neither TSX Venture Exchange nor its Regulation Services Provider (as that term is defined in the policies of the TSX Venture Exchange) accepts responsibility for the adequacy or accuracy of this release.
← Back to Newsroom