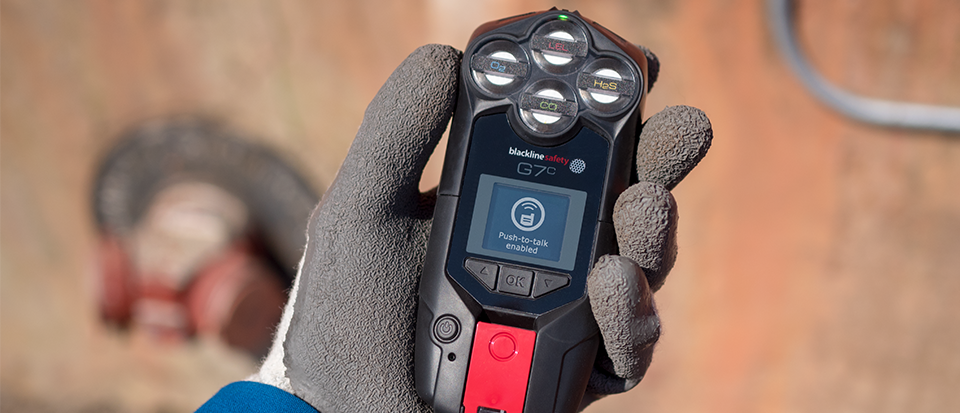 New Push-to-Talk Capability
Blackline has revolutionized the safety industry once again — introducing push-to-talk calling for G7c, our cellular-connected safety wearable.
With the push of the red latch, employees can connect with team members instantly. No longer will teams need to wear and maintain multiple devices, as push-to-talk turns G7c into a two-way radio and a gas monitor. G7c with push-to-talk supports radio calling across 100 channels, enabling teams to communicate seamlessly from site-to-site and even across country boarders.
As a Blackline Safety partner, G7c demonstration kits are a critical tool that enables you to present Blackline's connected worker technology to your clients. With the launch of push-to-talk, we evolved G7c further to support this innovative feature while also adding Bluetooth wireless communications. Soon, we'll complement push-to-talk with a wearable speaker-microphone and we have recently added a new location beacon to our portfolio that features Bluetooth technology.
Upgrade Program
To use push-to-talk, your G7c devices must be enabled to support this new functionality. At no cost to you, Blackline will exchange each recently purchased G7c demonstration kit that was purchased in September and October 2018. If you require additional demo kits, they can be purchased for a 50% discount off MSRP.
G7c demonstration kits that were purchased prior to September 2018 will exchange systems at no cost provided that there has been use on each device in August, September and October.
For demonstration kits that were purchased prior to September 2018 that do not have any use in August, September and October, Blackline offers a 50% discount off MSRP to exchange for a push-to-talk-capable G7c system.
If you are interested in upgrading existing G7c demo devices to be new PTT enabled devices, please fill out the form below or
visit our demo kits page
for more information.
[contact-form-7 id="2138" title="PTT Upgrade Form"]