It's been a whirlwind at Blackline over the last several months — in the last two weeks, we released four press releases, with our Q2 numbers going out this morning. During the quarter, we saw nearly 50% overall revenue growth compared to the same quarter, last year. This is very positive to see, and was driven by interest in and sales of G7 solutions. Our full, internationally-certified G7 product line with integrated gas detection has been shipping for just over six months, and our growth compared to last year has been significant.
We see strong interest in our leasing program from customers that don't wish to use their capital purchase budgets. We report customer leases in a category called 'future contracted service revenue', which increased by 83% compared to last year. Because we offer leases over a 36-month term, the full value of customer leases doesn't get recorded as service revenue within a quarter. We highlight contracted future service revenue as a separate metric to help investors understand that we have agreements in place with lease customers that will continue to generate service revenue in future quarters.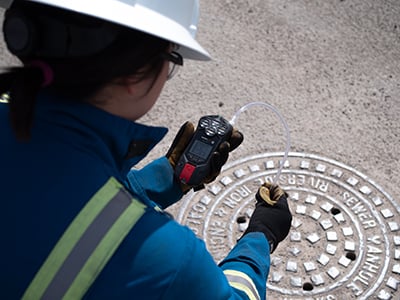 G7 Insight was announced a couple of weeks back, marking the repositioning of our connected safety technology as "the world's hardest-working gas detector" and expanding our market focus to include the mainstream gas detector market. This isn't an exaggeration, as our G7 system — with connectivity, compliance dashboard and business analytics — is far superior to the current offerings from competitors. On paper, G7 Insight is priced at a premium compared to conventional gas detectors. However, it often offers a lower cost of ownership when considering the hidden costs related to gas detector maintenance, including sensor replacements and configuration and firmware updates. We also offer productivity improvement, eliminating the manual work required to prove that gas detectors are properly maintained and compliant with safety regulations. Conventional gas detectors require data logs to be retrieved from docking stations in the field and then consolidated, reviewed and reported manually — even then, it only provides a snapshot that could be a week or two old.
At the World Gas Conference earlier this week, we announced our new Multi-gas Pump Cartridge for G7 that enables customers to leverage connected safety for confined space entries and leak checks. Coupled with upcoming G7 firmware, users will be able to change G7 configuration on-the-fly between normal, leak check, confined space pre-entry and high-risk modes. For confined space entry and leak checks, the internal pump will automatically turn on in order to remotely sample the confined space atmosphere for hazards or to look for gas concentrations near valves, pumps, piping and tanks. G7 data that is flagged by user modes within Blackline Live will, in turn, drive our Blackline Analytics interface. Businesses will know more about how their organization is operating, such as where personnel entered confined spaces, how long they were inside, what gases were encountered and where there may be leaks that need to be addressed. These insights are simply not possible with traditional 'beep-and-flash' gas detectors.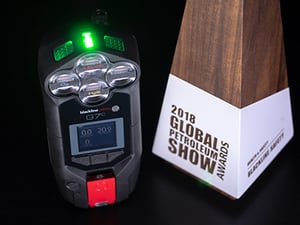 Last week, we announced that we won the Health & Safety Award at the Global Petroleum Show. One of only nine awards presented at the awards gala, this was a considerable achievement for G7 and its contribution to the world of safety. This accolade reaffirms our commitment to keeping personnel safe in the workplace and validates the quality and innovation of the technology, software and services we produce and deliver to customers around the world.
We have a lot of exciting work ahead with the release of new innovations, displacement of conventional gas detectors and sales victories of comprehensive monitoring solutions to safety leaders. It's an exciting time to be working at Blackline. Stop by or email if you have any questions.