On October 3, our Safety Operations Center responded to a record number of 834 alerts with a total of 1,155 client calls in a single day, to ensure everyone's safety. This record day is a bit atypical and resulted from the planned cellular network outage that was posted on the support site and in the banner in Blackline Live user accounts. With help from ten SOC agents, our team was able to manage this outage in a timely, managed and professional fashion.

Our SOC is currently monitoring 14,807 devices and in the past month they have experienced a significant increase in number of alerts. The total number of alerts in September was 9,740 with a peak of 492 alerts on September 19, 2018. For comparison, the total number of alerts in August was 6,155 with a peak of 324 alerts on August 29, 2018 (58% growth in one month).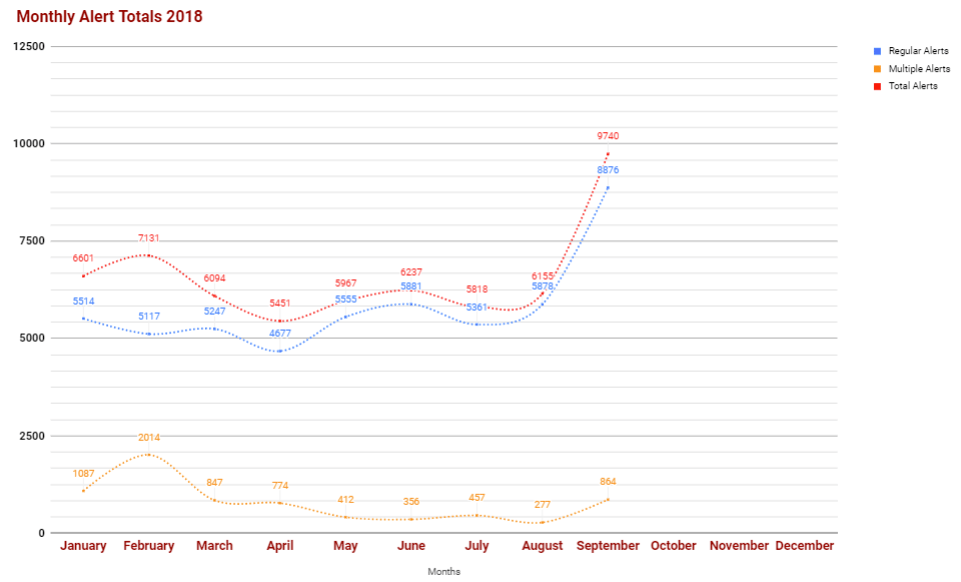 With October off to a busy start, it will be interesting to see how the daily alert rate continues to track through the month and as additional customers are on-boarded with SOC monitoring.
Like each of our teams, our Safety Operations Centre team works hard and is committed to our critical mission of monitoring employee safety, around the clock. I appreciate our SOC team's effort in responding to yesterday's outage — it was an intense demonstration of our capabilities to manage the demands of our growing business.
Stop by or email me if you have any questions about yesterday's outage or alert trending for our SOC services.