What does Industry 4.0 mean?
In this first part of this two-part series, we'll discuss how technology advances and the rise in interconnectivity are moving more businesses into a digital transformation. Industry 4.0 describes the fourth industrial revolution where companies are making the shift to digital, connected technologies to achieve their business goals. Combining cloud hosting, computing, sensor data and machine learning to the digitization of a company's physical assets, businesses are using new technologies to boost productivity, drive decision making and stay competitive within their industry.
WHAT ABOUT THE OTHER INDUSTRIAL REVOLUTIONS?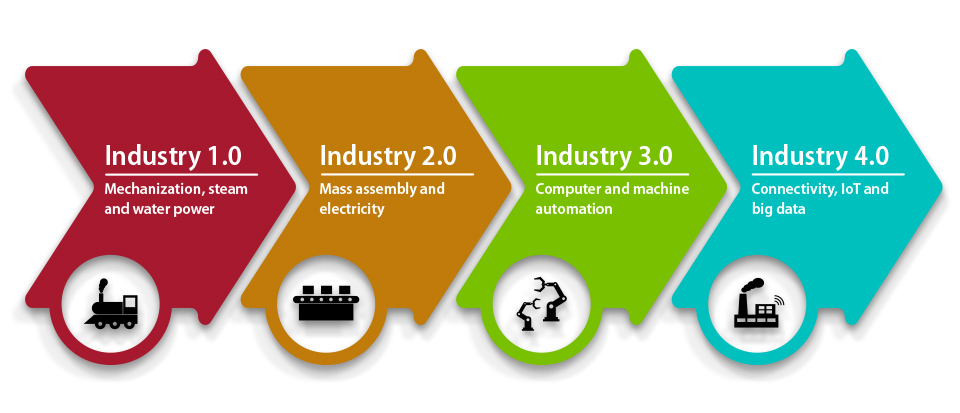 THE ERA OF DIGITAL TRANSFORMATION HAS ARRIVED
Industry 4.0 is a powerful optimization of Industry 3.0, with an emphasis on the Internet of Things (IoT) and cloud technology. While Industry 3.0 focused on automation, it did so with centralized control systems to boost efficiency and quality — there was no provision for connecting systems together for the sake of gaining insight from enormous volumes of data. The technology simply didn't exist in a necessary form until recent years.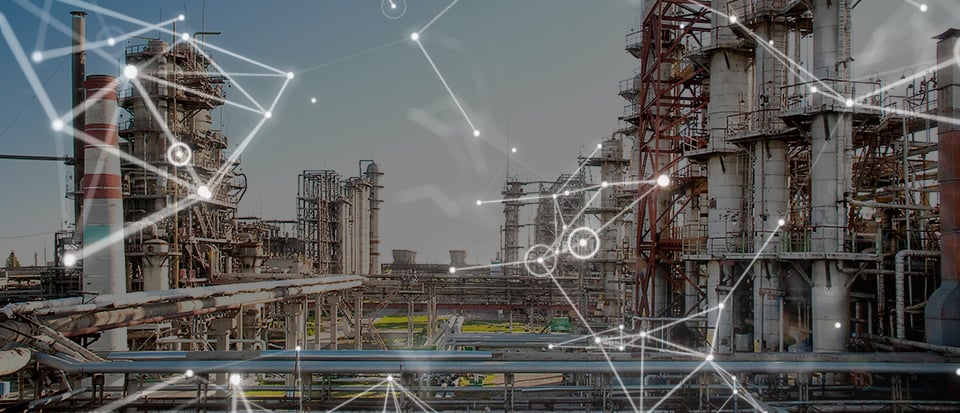 In contrast, Industry 4.0 offers an all-inclusive, holistic approach to connectivity and automation. Previously-disconnected equipment, machinery, processes and control systems are becoming interconnected, making it possible to collect and evaluate large amounts of data that are streamed to the cloud. Connected technologies also enable advanced employee wearable systems focused on keeping teams safe and highly-productive — keep reading to find out how.
DATA-DRIVEN DECISION-MAKING
Increasingly, business decision making is being driven by data, dashboards, real-time triggers, reporting and data science. For example, consider an unexpected shift in the feedstock mixture entering a petrochemical plant, compared to recent and historical trending. By leveraging data from past incidents, data-driven insights can help the business proactively adjust their processes to ensure that quality doesn't suffer while keeping production at an optimized output. Simultaneously, a real-time trigger can notify stakeholders of the incident.
With Industry 4.0 capabilities, this type of scenario can be monitored and managed remotely, ensuring a consistent and comprehensive level of oversight for each refinery owned and operated by the business. The implications are far-reaching, enabling businesses to become more efficient in the increasingly competitive world.
How is connected safety part of Industry 4.0?
Some businesses are already on the path to digital transformation, while others are exploring their options. Investing in connected safety wearable technologies is a core component of helping businesses with their transformation, providing the situational awareness that has been missing from safety programs for many businesses in the past. And, as you'll learn, the data generated by connected safety wearables has significant value when combined with other sources of business data.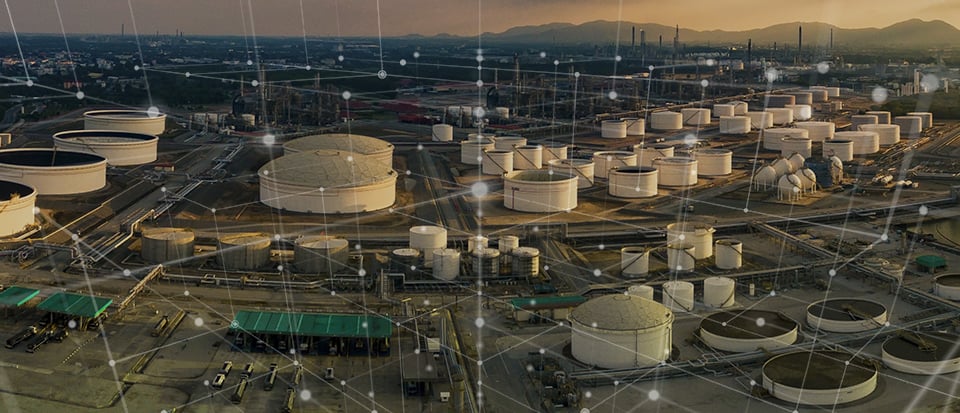 Adopting and adhering to safety best practices is also a business sustainability topic, supporting a superior corporate culture. Employees are the heart of every business, and a strong commitment to their wellbeing by deploying the best that technology can go a long way in attracting and retaining the best team members.
DIRECT-TO-CLOUD CONNECTED SAFETY
Traditionally, gas detection lacked comprehensive connectivity. The introduction of G7, with direct to-to-cloud safety monitoring, changed the way the world views gas detection. Every employee is connected by their standalone wearable monitor that communicates wirelessly and directly to the Blackline Safety Cloud. G7 devices feature internal cellular communications and have the option to connect to G7 Bridge, a portable satellite base station that provides true last-mile coverage for remote monitoring needs.
CONNECTIVITY ISN'T AN OPTION
Connectivity is our core feature — it's not an option, an add-on or an afterthought. From day one, all of our products were designed with connectivity in mind, focusing on how to best leverage cloud-connected technology to provide our clients with real-time situational awareness. While our competitors are only now beginning to integrate Industry 4.0 connectivity into their offerings, we have a proven history of superior connected solutions. We long ago addressed the shortcomings of traditional, disconnected competitor detectors, and have moved on to proactively addressing challenges faced by our expanding customer base.
With integrated cellular or satellite connectivity, G7 works out of the box, automatically linking with available cell or the Iridium satellite networks. Our solutions don't rely on other infrastructures such as Wi-Fi, Bluetooth, smartphone or mesh networks or hardware bolt-ons — with integrated cloud-connected technology, you can instead focus on what matters.
Connectivity also means all situational data from each device is automatically streamed to the Blackline Cloud, powering live compliance and analytics dashboards. In an instant, businesses are able to see the operational and compliance status of their fleet. Users gain insight into where and how equipment is being used and what hazards are being encountered, allowing them to access critical insights to help empower decision making and drive their business.
THE VALUE OF LOCATION-ENABLED DATA ANALYTICS
Every G7 device regularly streams data to the Blackline Safety Cloud, generating large volumes of data. Every piece of data is location-tagged for visualization and powering data analytics. This includes gas alerts, fall alerts, potential falls, missed check-in alerts, no-motion alerts, SOS latch pulls, messages, two-way voice calls, confined space entries, leak checks and more.
Every bump test and calibration is captured and contributes to an overall view of gas detection regulatory compliance. It's easy to see which personnel are using G7 wearables and how often. But, the insights don't stop here — Blackline is already providing businesses with data that describes employee behaviour and performance during intensive facility maintenance projects. Through our in-house data science team, we can work with your business to combine data and deliver further value.
Stay tuned for our second part of our Industry 4.0 spotlight where we'll look at our G7 safety wearable tech, cloud-hosted software and data analytics in further detail.
At Blackline, we've been helping clients adopt digital safety monitoring technologies for over a decade. Let us know how we can assist your business' digital transformation project, or join us for our webinar with Business and Industry Connection (BIC) to learn more about Industry 4.0.
ABOUT ME
I have been working in the technology sector for over 20 years, having co-founded a Calgary-based high technology company with focus upon location-based services. As a member of Blackline's executive team, my current focus is marketing, business development, partnering and process improvement. Prior focus included software development and production services infrastructure management.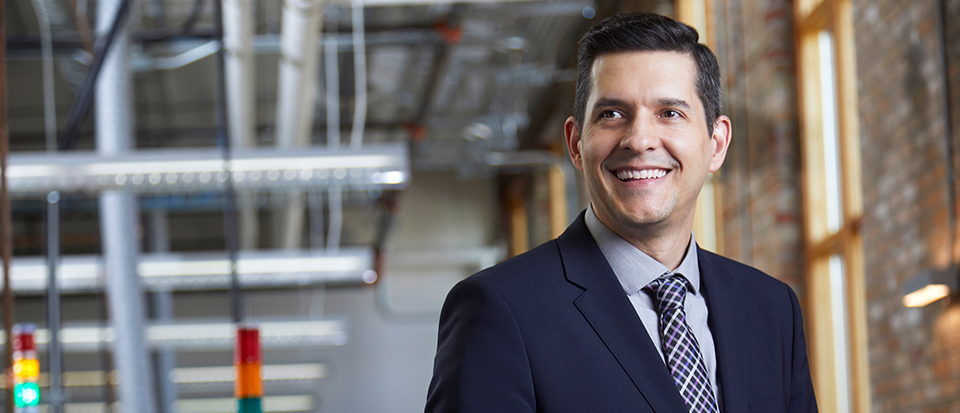 Brendon Cook, CTO and Co-founder, Blackline Safety