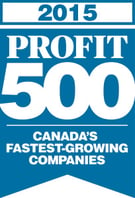 Today, PROFIT magazine unveiled the 27th annual list of Canada's fastest-growing companies and Blackline Safety ranked no. 323. Published in the October issue of Canadian Business and at PROFITguide.com, the PROFIT 500 ranks Canadian businesses by their five-year revenue growth.
Blackline Safety made the 2015 PROFIT 500 list with five-year revenue growth of 161%.
"The PROFIT 500 represent the highest tier of entrepreneurialism in Canada," says James Cowan, Editor-in-chief of PROFIT and Canadian Business. "They should be lauded for the positive economic contributions they've made to their communities—and the entire country. They are examples of what can be accomplished with innovation, discipline and determination."
For more information, check out PROFIT 500.