Wireless gas detector system goes global
With ATEX certification, G7c is revolutionizing the global gas detection industry, providing built-in 3G communication, two-way speakerphone, live monitoring and modular gas detection. Wireless connectivity increases situational awareness, accounting for everyone's whereabouts — G7c communicates every safety incident and gas alert to live monitoring personnel in real-time, empowering an active and optimized emergency response, to make a difference for an employee who needs help.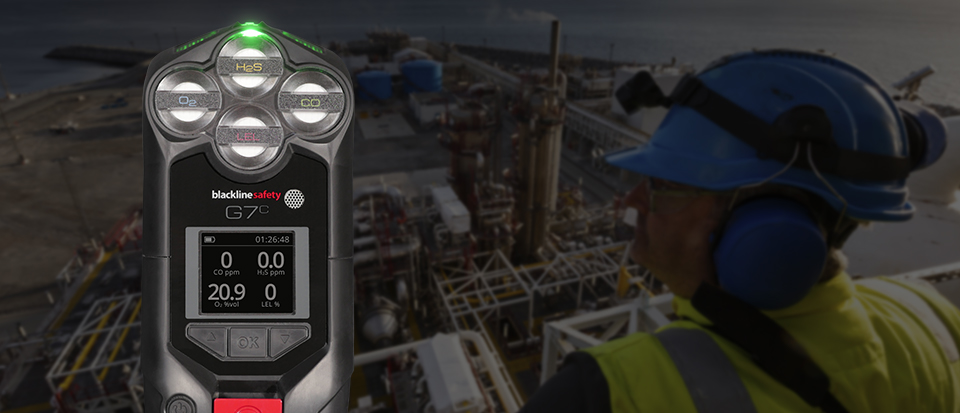 ATEX certification — What is it?
Under Directive 2014/34/EU, the European Union controls equipment that can be used in environments where there may be an explosive atmosphere due to the presence of gases, vapors, mists or dusts. The ATEX acronym comes from 'atmospheric explosion' and is the general term applied to equipment used in Europe and the United Kingdom that is certified intrinsically safe. Intrinsic safety refers to the careful electronic design of a product such that an explosion cannot be triggered by equipment use or a failure within the product.
Blackline's G7c achieved ATEX certification according to standard EN 60079 and IEC 60079 for use in Zone 0 locations, where an expectation of explosive gases being present for more than 1,000 hours per year is assumed. G7c is now available to clients in over 200 countries, to make a difference and improve their safety programs. Blackline has certified G7c according to CSA C22.2 No. 60079 and UL 60079 standards, enabling use in Class I, Division 1, Groups A, B, C and D locations.
Making a difference — traditional gas detectors are obsolete
Gone are the days of traditional gas detectors that function like smoke alarms, notifying only the wearer and those in earshot of dangerous gas levels present in the area — potentially leaving the worker alone with no way to reach help. With two-way 3G connectivity and a built-in speakerphone, Blackline's live 24/7 monitoring teams automatically connect with an employee and can manage a real-time emergency response when required — should they call for help using the SOS latch, a fall be detected, or a gas alert is triggered — delivering an optimized emergency response to their exact location.
Traditional personal gas detector programs have struggled to ensure ongoing compliance and to keep employees safe — G7c sets the bar for the gas detection industry where businesses can see the compliance status of all equipment, in real-time. Every calibration, bump test and all equipment used is summarized in an intuitive, online dashboard and through weekly reporting.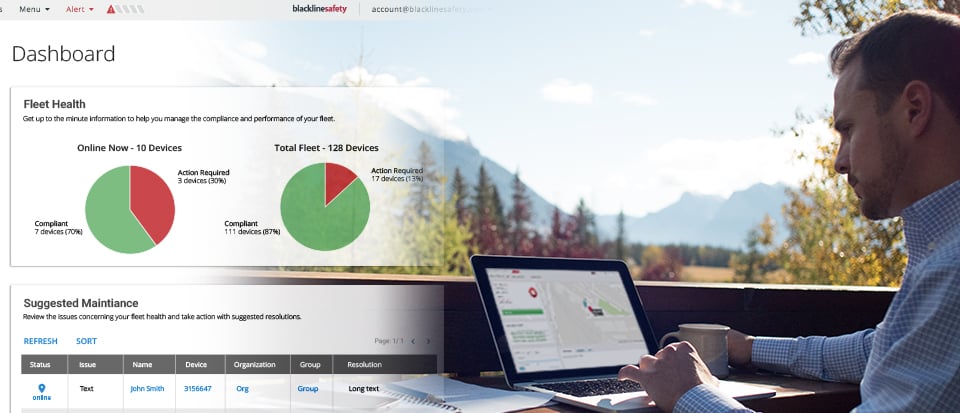 Web-based monitoring
The Blackline Live web portal provides you the opportunity to configure your G7c devices, manage all your workers and track compliance wirelessly, over-the-air — even when you're not on site. Every event is communicated in real-time to Blackline's servers and stored for reporting. Alert profiles are customizable to determine which devices should be notified in the event of an incident and what response protocol monitoring personnel will follow to ensure your team gets the help it needs. Real-time monitoring is complemented by live maps and customized facility floorplans for increased location accuracy and optimized response time.
The modular gas detection difference
To cater to the wide variety of hazardous work environments teams face, Blackline's G7c and its cartridges are Zone 0 compliant and ATEX certified for use in potentially explosive environments. G7c features an exclusive modular design with a selection of customizable, field-replaceable cartridges — choose between a single- or quad-gas cartridge, then select from a range of gas sensors to suit work scenarios, including flammable gases, hydrogen sulfide, oxygen and carbon monoxide. With Blackline's cartridge replacement program as part of your G7c service plan, never buy a cartridge again — increasing product up-time and ensuring seamless gas detection and safety monitoring while minimizing maintenance costs.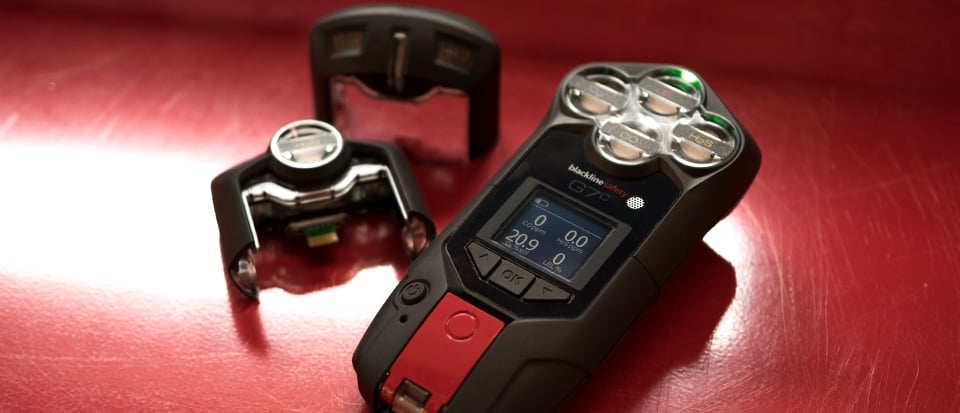 Indoor / Outdoor location technology — Location beacons
G7c is Blackline's second device to be certified Zone 0 compliant. Blackline's location beacons works with G7c as a compact accessory, providing precise G7c positioning signals for areas where GPS signals alone may not be sufficient, such as around or inside complex facilities. For monitoring teams to quickly deliver resources to an employee, facility floorplans can also be uploaded to monitoring accounts and used together with beacons to ensure precise and accurate indoor location tracking in context of a workers surroundings.