With the launch of G7, Blackline Safety has dramatically expanded the capability of connected safety technology. G7 is much more than work-anywhere wireless communications, location technology and gas monitoring. It's a 'total detection' solution that triggers an emergency response for every situation — from injuries and health events to security threats and extreme weather scenarios.
But how did we do it? Read on to learn more about our pioneering experience in the gas monitoring industry—this isn't our first rodeo.
Blackline Safety knows gas monitoring
It's possible to create new innovations with talent alone but it's difficult to replace experience. Our new G7 solution is a complete, end-to-end system for comprehensive safety monitoring. To create G7, it took a leading product development team with skills and knowhow — right from the top.
Cody Slater, Blackline Safety CEO & Chairman
You may know Cody by name as Blackline's CEO and Chairman but did you know that he's a veteran in the portable gas detection industry? Cody founded BW Technologies in the 1980's (now a division of Honeywell) and was a driving force of innovation in the portable gas monitoring industry.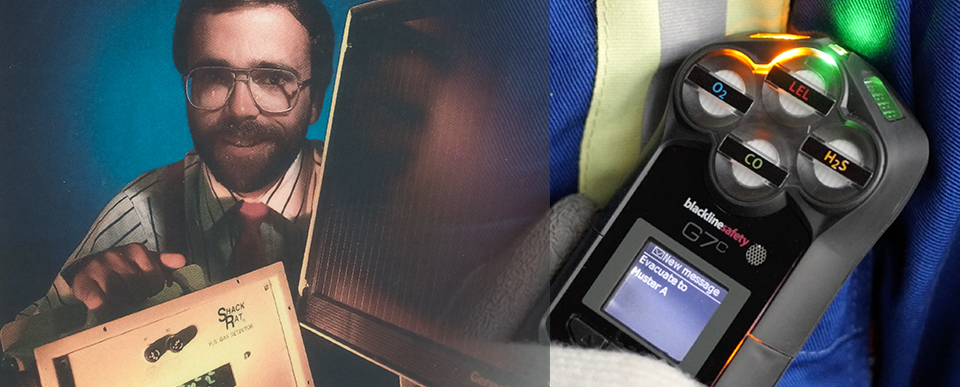 Cody created and introduced the world's first wireless and solar-powered gas monitoring instrument, the Rig Rat. From there, he steadily grew BW Technologies into an innovation power-house, bringing gas detection to the masses. Over the years, you and your teams may have used products designed by Cody's product development efforts.
With personal activity monitors having gone mainstream, portable gas detection was one of the first true 'wearable' technologies — well before it was fashionable. Portable gas monitoring is all about business — keeping employees safe with early detection of toxic or combustible gases. While it's true that personal gas detection is a crucial safety technology, traditional approaches don't do enough. Replacing the proverbial canary-in-the-coal-mine, personal gas detection is valuable to draw attention from teammates nearby — within an earshot of a colleague needing help. The problem is that these solutions do not connect employees together, no matter where they work.
G7 changes the game by addressing this core problem of connectivity. We didn't just add gas detection either. It's a complete re-design of how gas monitoring works for businesses, with a thorough understanding of organization requirements. G7 works right out of the box that leverages the billions already spent on leading cellular and satellite technologies. There's no need for Wi-Fi or complicated Bluetooth connections to another device. With G7, a 24/7 live monitoring team is virtually as close as the next room over to manage an emergency situation.
Dr. John Finbow, Blackline Safety board member
Cody and John have a long history of innovation together dating back to the late 1980's. In the 1970's, John was a chemist at City, University of London and a co-founder of City Technology.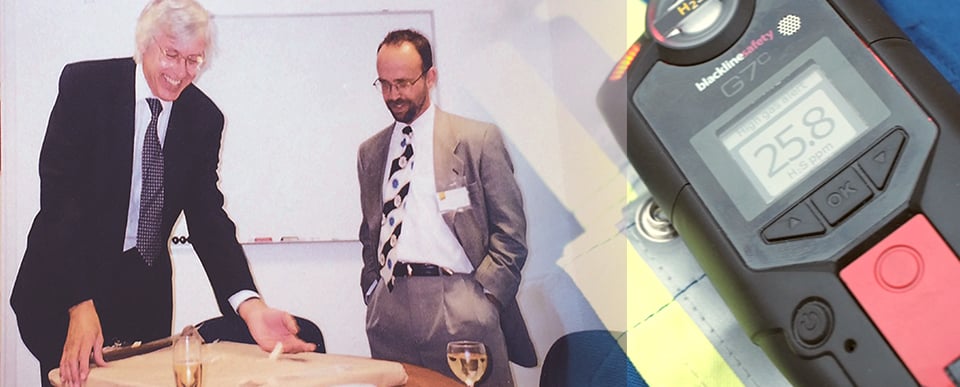 City Technology was an early player in the gas sensor market, now a world leader and also owned by Honeywell. John joined Blackline's board of directors in 2011 and contributes a broad range of skill-sets and experience to our board.
G7 features a modular design with interchangeable cartridges. Three cartridge options are available: a Standard Cartridge, a Single-gas Cartridge and a Quad-gas Cartridge. Both of the gas-equipped cartridges are customized according to our customers' choice of gas sensors. Cartridges not only deliver modularity for clients, they also provide a cost-effective method of ensuring ongoing compliance by replacement of cartridges that are beyond their service life. Further, our cartridge approach provides room for Blackline to expand capabilities in the future.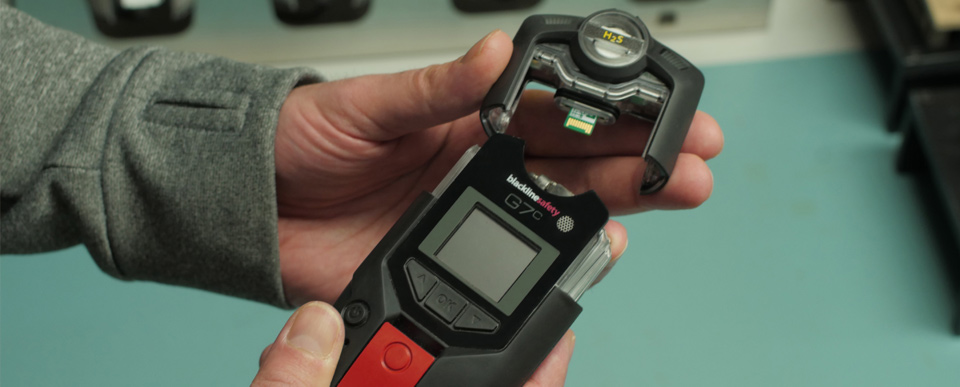 Product Development
Blackline's talent and experience in the gas monitoring field don't stop with Cody's and John's leadership. To create and deliver meaningful innovations, it takes a team.
Blackline Safety drafted the best players with proven gas detection experience to help drive our safety product development programs. Importantly, not everyone at Blackline Safety shares a background in gas monitoring. A broad range of complementary experiences and skill-sets provides the right amount of balance to ensure that G7 works for every business, including those that have no gas monitoring requirements.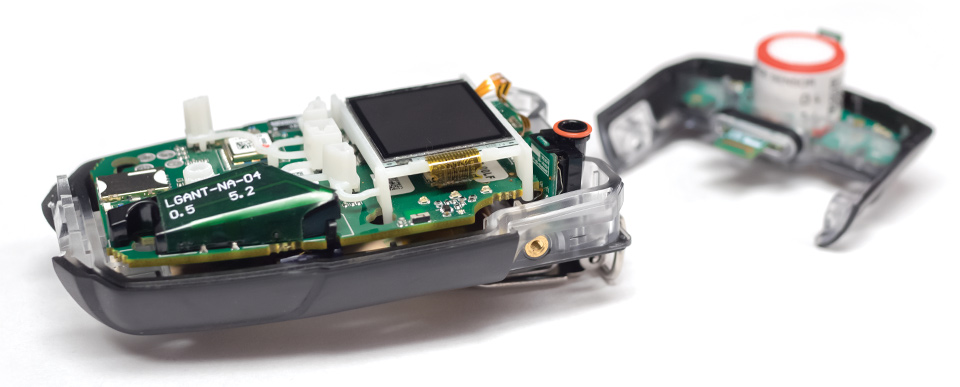 Engineering fully-connected technologies requires not only a leading device like G7, but a complete stack of technology that provides world-class communications, networking, user interface, back-office software and hosting. Blackline Safety delivers this suite of technology in the form of Blackline Live, our cloud-hosted live monitoring account and user interface.
Accessible from any internet-connected device, Blackline Live delivers the tools to monitor your team from any location. G7 and Blackline Live work together to provide an accurate view of your team's compliance—equipment use plus calibration and bump status. Have you wondered where gas exposures have occurred on your site? By geo-referencing each sample, G7 works with Blackline Live to display a heat-map to help you proactively plan site maintenance.
G7 is ideal for lone working too
We remain true to our roots of monitoring lone workers and their safety. However, connected safety technology offers a lot more capability for a broad range of applications and not just employees working alone.
Triggering evacuations and monitoring their real-time progress with full accountability is crucial for many industries. Others find value in being able to provide mass notifications to teams that advises of new hazards in the workplace or notice of weather events that may affect operations. With two-way voice and text message communications, G7 has your teams covered.
Let's connect
We have a lot more to share and we invite you to reach out to us—we'd love to hear how we can help with your safety challenges.