In its 35th year of operation, AOG brings together over 500 exhibiting companies from 25 nations that present the latest innovations to nearly 10,000 energy industry professionals.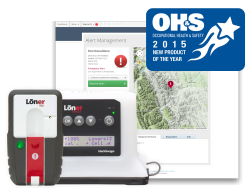 Over the next three days we are demonstrating our lone worker safety solutions— including the award-winning Loner Bridge System, standalone cellular-connected devices and lone worker app for iPhone, Android and BlackBerry—at stand S32 in the health and safety pavilion of the Perth Convention Exhibition Center.
"The Loner Bridge System has become Canada's industry standard for monitoring personnel working alone, beyond cellular coverage in the remote upstream and midstream oil and gas segments," said Sean Stinson, Blackline's VP Sales & Product Management. "Blackline brings this innovation to every industry in Australia and New Zealand where employees work alone in remote locations, empowering the swiftest emergency response possible to every incident including injuries, health events and even assaults or animal attacks."
If you're at AOG, please stop by our booth for a demonstration. For more information, check out our media release.