Blackline Safety launches next generation lone worker monitoring solution
March 22, 2016
Loner M6 Series adds speaker phone capabilities and LiveResponse to provide industry leading safety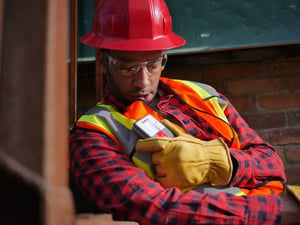 Birmingham, United Kingdom—Today at the Health & Safety Event 2016, Blackline Safety Corp. (TSX Venture: BLN), announces the launch of a new generation of lone worker safety monitoring devices—the Loner® M6 Series. Hosted at the NEC in Birmingham, the Health & Safety Event brings together over 14,000 professionals from multiple industries who will have the opportunity to see these new products first-hand. A live safety monitoring demonstration can be viewed at stand C32.
"A workplace safety incident is a stressful time for any employee. Our new Loner M6 work-alone devices make it easier—bringing comfort and confidence to the worker while the monitoring team manages a live emergency response," says Sean Stinson, VP Sales & Product Management at Blackline Safety. "Loner M6 delivers valuable new features including LiveResponse—a blue light that tells the employee 'help is on the way' and a new two-way speakerphone that allows the lone worker to speak hands-free with the monitoring team. Loner M6 does more than any product before to reduce the stress of the situation and get the right help to the right location as fast as possible."
Blackline's Loner M6 series offers two devices to choose from. The Loner M6 model is available for all general work areas while Loner M6i is ATEX-certified intrinsically safe for use within hazardous environments where an explosive atmosphere may exist.
"Our new Loner M6 surpasses the requirements of the lone worker BS 8484 monitoring guideline that requires two-way voice communication with our Alarm Receiving Centre," says Gavin Boorman, Managing Director at Blackline Safety Europe Ltd. "Speaking with the live monitoring team is completely automatic. When a safety alert is triggered, the worker can speak directly with monitoring personnel—all without pressing a button."
The Loner M6 Series incorporates an industry-leading speakerphone system that projects the monitoring agent's voice loudly and clearly while capturing the employee's voice through a sensitive microphone. For loud environments, the Loner M6 device can be toggled from speakerphone to hand-set mode with a momentary press of the check-in button. The Blackline Safety Network records all voice calls with monitoring personnel and are available for playback within the employer's cloud-hosted Loner Portal safety monitoring account.
Blackline's lone worker monitoring solutions bring value to a diverse base of industries including utilities, research labs, manufacturing, oil and gas, industrial, transportation and service companies. Loner M6 devices incorporate 3G wireless communications, assisted GPS positioning and a combination of automatic and manually-triggered alerts. Both device models are compatible with Blackline's Loner Beacon indoor location technology that displays employee locations on an interactive Google™ map, complete with custom floor plans.
Blackline's broad safety monitoring portfolio empowers organizations in all industries and geographic locations with real-time safety incident awareness, delivering help within minutes instead of hours or potentially days later. To learn more about Blackline's work-alone safety monitoring solutions, visit www.BlacklineSafety.com and follow Blackline on Twitter @blacklinesafety.
About Blackline: Blackline Safety Corp. (TSX.V: BLN) is a wireless location leader that develops, manufactures, and markets products and services for lone worker safety monitoring. Targeting every industry, employee role and location, our Loner® solutions are promoted through offices in Calgary and the United Kingdom and sold through a growing network of international distributors. Loner products alert monitoring personnel of a safety incident, locate the employee and empower the most efficient emergency response—Alert. Locate. Respond.™ Our vision is to become the leading supplier of wirelessly connected lone worker safety monitoring products in the world. For more information, visit www.BlacklineSafety.com.
Neither TSX Venture Exchange nor its Regulation Services Provider (as that term is defined in the policies of the TSX Venture Exchange) accepts responsibility for the adequacy or accuracy of this release.
Gavin Boorman, Managing Director, Blackline Safety Europe Ltd.
Telephone: +44 1787 222684
gboorman@blacklinesafety.com
Unit 11, Wakes Hall Business Centre
Wakes Colne Colchester, Essex CO6 2DY UK
Cody Slater, CEO & Chairman, Blackline Safety Corp.
Telephone: +1-403-4510327
cslater@blacklinesafety.com

Kelly Meyers, Media Relations, Blackline Safety Corp.
Telephone: +1-403-605-4156
kellymeyers@blacklinesafety.com
Unit 101, 1215 13 Street SE
Calgary, AB Canada T2G 3J4
Fax: +1 403 451 9981
www.blacklinesafety.com
← Back to Newsroom