Blackline Safety in-sources manufacturing automation with $1M investment
May 23, 2018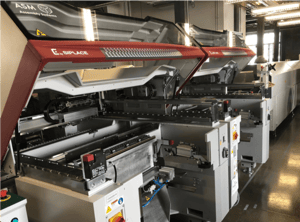 Calgary, AB — Blackline Safety Corp. (TSXV: BLN), a leading connected safety technology manufacturer, has invested $1,000,000 in surface mount technology (SMT) equipment to in-source the assembly of printed circuit boards at its new manufacturing facility in Calgary, Canada.
"This investment into SMT technology enables us to populate our own printed circuit board assemblies, increasing control over quality, reducing overall costs and speeding time-to-market for new product development," said Blackline Safety's CEO, Cody Slater.
"We recently expanded to add a second building with over 8,400 square feet for our new surface mount technology line and product assembly," said Kevin Meyers, COO at Blackline Safety. "This state-of-the-art, automated assembly line allows us to reduce prototype and manufacturing runs from weeks to days. When we are fully up and running, we will build G7 safety devices from raw components to finished goods in our own quality-controlled environment."
Blackline's award-winning G7 connected safety product line combines wireless gas detection, lone worker monitoring, evacuation management, real-time compliance and productivity-improvement into a single wearable device supported by cloud-hosted monitoring software and services. G7 devices are the only turnkey connected safety products on the market that incorporate cellular and satellite connectivity, two-way voice calling, automatic incident detection and plug-and-play cartridges to accommodate a broad range of gas detection requirements.
Over the last decade, Blackline Safety has grown from a team of ten employees in Calgary to over 115 people with an additional ten located at Blackline Safety Europe in the United Kingdom and four in the United States. Since launching G7, Blackline's distribution network has grown from fewer than 15 to more than 60 partners around the world.
About Blackline Safety: Blackline Safety is a global connected safety technology leader. Providing comprehensive live-monitoring and wireless gas detection, we help teams working in hazardous environments respond to emergencies in real-time and manage efficient evacuations, accounting for everyone's safety along the way. With millions invested in technology research and development, Blackline Safety is recognized for quality and innovation. Our talented team of designers and engineers create and manufacture everything in-house — from wearable technology and personal gas detectors to cloud-hosted infrastructure and web-based interfaces for global industry. We deliver the world's first turn-key, work-anywhere connected safety monitoring solution with gas detection, 3G wireless, satellite communications, two-way speakerphone, employee messaging and live monitoring to meet the demanding safety challenges of organizations in over 100 countries. For more information, visit www.BlacklineSafety.com.
Neither TSX Venture Exchange nor its Regulation Services Provider (as that term is defined in the policies of the TSX Venture Exchange) accepts responsibility for the adequacy or accuracy of this release.
← Back to Newsroom