Blackline Safety receives Health & Safety Award at Global Petroleum Show
June 21, 2018
Judging panel recognizes health & safety excellence with Blackline's introduction of G7c connected safety system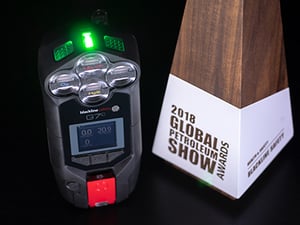 Calgary, AB — As the Global Petroleum Show celebrated 50 years of innovation last week, at the opening gala, a panel of 17 industry judges presented the Health & Safety Award to Blackline Safety Corp. (TSXV: BLN). One of only nine awards presented at the event, judges recognized Blackline's recent impact on safety in the energy sector with the introduction of its industry-leading G7c connected gas detector. The Global Petroleum Show is North America's largest oil and gas exhibition that attracts over 50,000 attendees from 115 countries.
"With the development of our revolutionary G7c wireless gas detector, we set out to change the way industrial businesses keep their teams safe around the world," said Cody Slater, CEO and Chairman of Blackline Safety. "Having our efforts recognized by a diverse panel of judges underscores our commitment to developing the industry's most capable connected safety, gas detection and lone worker monitoring solutions."
Currently, businesses need to retrieve gas sensor test and calibration data from the field to manually compile and generate gas detection compliance reports. This process is time-consuming and does not provide an everyday view of compliance status. Industry tried to solve this problem with costly internet-connected docking stations, but they miss important data when gas detectors aren't docked, creating a serious gap in compliance for businesses. While some competitor gas detectors are connected, they rely on expensive Wi-Fi networks or Bluetooth connections to smartphones. Blackline's G7c gas detector solves the compliance problem through turn-key, integrated cellular connectivity. Only needing minutes of coverage per day, businesses achieve hassle-free data collection and automated compliance reporting, helping safety teams ensure that their gas detection systems are working properly, without impacting productivity. Additionally, G7c and Blackline's online analytics platform provide key insights into managing a world-class gas detection program, including the ability to map the location of gas leaks for proactive site maintenance.
G7c features Blackline's exclusive plug-and-play gas sensor cartridges, covered by a lifetime warranty. Reconfiguration is easy — a simple cartridge replacement allows reconfiguration from a single-gas to a multi-gas cartridge in seconds. Should a gas sensor fail a test or calibration, the cartridge can be swapped out for a new one in the field, ensuring detector downtime is eliminated and allowing personnel to focus on what's important.
This is the latest in a string of awards for Blackline's G7c connected safety product line that blends wireless gas detection, real-time compliance, business analytics and productivity-improvement into a single, wearable device. This year, Blackline was named Manufacturer of the Year at the Oil & Gas Awards. The G7c gas detector was named 2018 Product of the year by TECTERRA, named 2017 New Product of the Year by OH&S Magazine and won a 2017 Red Dot award for its innovation and product design — one of the world's most prestigious design achievements. To learn about Blackline Safety, visit www.blacklinesafety.com and follow on Twitter @blacklinesafety.
About Blackline Safety: Blackline Safety is a global connected safety technology leader. Providing comprehensive live-monitoring and wireless gas detection, we help teams working in hazardous environments respond to emergencies in real-time and manage efficient evacuations, accounting for everyone's safety along the way. With millions invested in technology research and development, Blackline Safety is recognized for quality and innovation. Our talented team of designers and engineers create and manufacture in-house — from wearable technology and personal gas detectors to cloud-hosted infrastructure and web-based interfaces for global industry. We deliver the world's first turn-key, work-anywhere connected safety monitoring solution with gas detection, 3G wireless, satellite communications, two-way speakerphone, employee messaging and live monitoring to meet the demanding safety challenges of organizations in over 100 countries. For more information, visit www.BlacklineSafety.com.
Neither TSX Venture Exchange nor its Regulation Services Provider (as that term is defined in the policies of the TSX Venture Exchange) accepts responsibility for the adequacy or accuracy of this release.
← Back to Newsroom