Blackline Safety releases G7 Insight connected gas detection offering
June 12, 2018
New program bundles leading gas detection with real-time compliance and industry's most powerful business analytics tools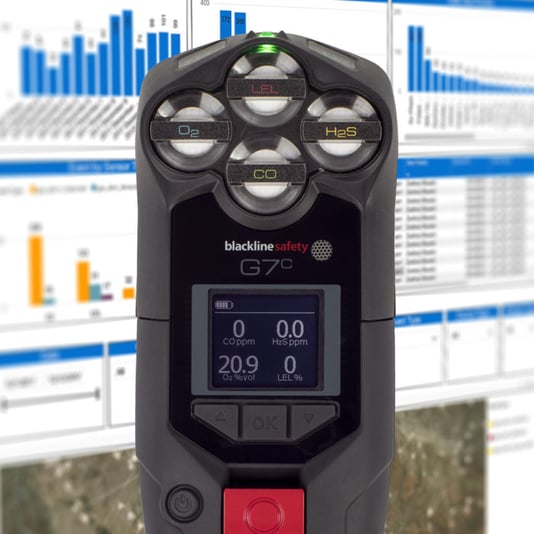 Calgary, Canada — Blackline Safety Corp. (TSXV: BLN) announces G7 Insight, a new offering that equips businesses in the energy, utility and telecom sectors with a new global standard for gas detection. For the first time ever, mainstream gas detection users have an affordable solution that operates just like a traditional monitor, but also provides the advantages of integrated connected technology. Beyond traditional gas detection, G7 delivers automated tools to ensure compliance while empowering decision-making with industry-leading business analytics.
"Regulations require businesses to ensure that their gas detection fleet is fully tested, calibrated and regularly being used by personnel — this is one of the safety industry's biggest gas detection challenges," said Sean Stinson, VP Sales and Product Management. "The launch of G7 Insight includes a trade-in program to replace outdated 'beep-and-flash' gas monitors with a solution that automates and proves gas detection compliance for businesses, at a price you wouldn't expect."
Blackline's software infrastructure automatically stores and processes compliance data for record keeping and reporting. Compliance managers no longer need to retrieve data from the field or review logs in order to understand their overall gas detection compliance. G7 Insight provides all the tools and software needed to achieve a real-time perspective and control over compliance programs. If employees need to calibrate their equipment in the coming days, managers can proactively monitor and manage the progress to ensure that all equipment remains in compliance.
G7 Insight enables worker-worn G7c gas detectors to be used by teams just like a traditional monitor, even in areas with limited cellular coverage. Supported with internal 3G communications, G7c automatically uploads stored compliance data and gas readings to the Blackline Safety Network with as little as 10 minutes of wireless connectivity per day. To empower Blackline's business analytics interface, G7c features internal location technology and tags each gas reading on a map. Operations teams can easily map the position of gas exposures, along with the gas type and concentration, to plan proactive facility maintenance and reduce fugitive emissions.
G7c is the hardest-working and most intelligent gas detector on the market, automatically managing all wireless communications, over-the-air firmware updates and configuration changes. Gas sensor testing and calibration firmware is built directly into G7c, enabling it to communicate every bump test and calibration to the Blackline Safety Network. Automating G7c gas sensor testing and calibration, G7 Dock is the industry's most affordable docking station that greatly simplifies compliance programs and the overall cost structure of a connected system.
Blackline provides a range of optional services, allowing businesses to customize G7 Insight to maximize overall value and accommodate their needs, including:
Real-time alerts including fall detected, no-motion (man-down), missed check-in, high gas, low gas, short-term exposure limit (STEL), time-weighted average (TWA) gas exposure limit and more
Online emergency response management tools
24/7 live monitoring from Blackline's in-house Safety Operations Center
Two-way voice calling and messaging between the employee and live monitoring team
Premium sensors: photoionization detector, chlorine, ammonia and carbon dioxide
Multi-gas pump cartridge for confined space entry and leak checks (coming soon)
Blackline Safety was recognized as Manufacturer of the Year at the 2018 Oil & Gas Awards and G7c was named New Product of the Year, Internet of Things by OH&S Magazine in the United States. To learn about Blackline Safety, visit www.blacklinesafety.com and follow on Twitter @blacklinesafety.
About Blackline Safety: Blackline Safety is a global connected safety technology leader. Providing comprehensive live-monitoring and wireless gas detection, we help teams working in hazardous environments respond to emergencies in real-time and manage efficient evacuations, accounting for everyone's safety along the way. With millions invested in technology research and development, Blackline Safety is recognized for quality and innovation. Our talented team of designers and engineers create and manufacture in-house — from wearable technology and personal gas detectors to cloud-hosted infrastructure and web-based interfaces for global industry. We deliver the world's first turn-key, work-anywhere connected safety monitoring solution with gas detection, 3G wireless, satellite communications, two-way speakerphone, employee messaging and live monitoring to meet the demanding safety challenges of organizations in over 100 countries. For more information, visit www.BlacklineSafety.com.
Neither TSX Venture Exchange nor its Regulation Services Provider (as that term is defined in the policies of the TSX Venture Exchange) accepts responsibility for the adequacy or accuracy of this release.
← Back to Newsroom