Blackline Safety takes home second New Product of the Year award
September 30, 2015
Loner Bridge System recognized in Occupational Health & Safety Magazine's 2015 awards
Calgary, AB—Today Blackline Safety Corp. (TSV VENTURE: BLN) announces that its Loner Bridge System was recognized as the leading safety product of 2015, in the 'Safety Monitoring Device­s' category, by Occupational Health & Safety Magazine.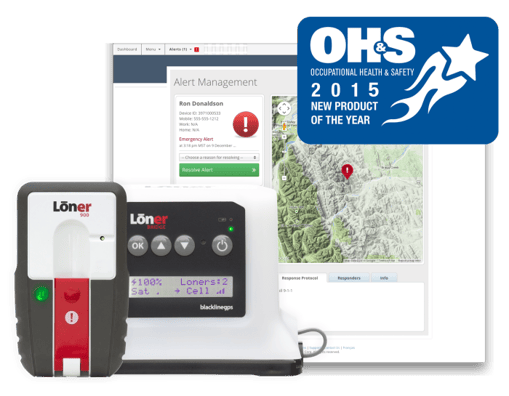 "The high quality and breadth of the 2015 entries proves once again how innovative safety and health manufacturers are as they compete in this fast-growing global market," says OH&S Editor Jerry Laws. "Informing our readers and online audience about the best new products available to solve their key safety and health challenges has always been part of our magazine's mission, and this contest has become a unique and very popular extension of our outreach to the audience we serve."
"We are honored to win our second 'New Product of the Year' award. Having won in 2013 with Loner IS, we address lone worker protection for hazardous locations," says Sean Stinson, Blackline's VP Sales and Product Management. "For 2015, our new Loner Bridge System now extends the same monitoring capability to the most remote locations using satellite communications. The success of this new innovation has significantly contributed to our growth over the last four quarters."
The Loner Bridge System was designed from the ground up to monitor the safety of remote workers. Comprised of two components, a portable satellite base station and a person-worn safety monitoring device, the Loner Bridge System delivers a valuable combination of automatic safety incident detection, manually-triggered safety alerts, communications and employee positioning technology. Our technology can continuously monitor employees for an injury, health event or physical assault. Should an incident occur, the Loner Bridge System communicates a safety alert in real-time to monitoring personnel, enabling emergency response in the fastest possible timeframe, rather than hours or potentially days later.
To learn more about Blackline's work-alone safety monitoring solutions, visit www.BlacklineSafety.com and follow Blackline on Twitter @blacklinegps.
---
About Blackline: Blackline Safety Corp. (TSX.V: BLN) is a wireless location leader that develops, manufactures and markets products and services for lone worker safety monitoring. Targeting a broad cross-section of industries where safety is a corporate priority, Blackline's suite of Loner solutions are promoted through offices in Calgary and the United Kingdom, and sold through a growing network of international distributors. Our solutions deliver safety and location awareness through mobile messaging, monitoring portal, Blackline's Safety Operations Center and web services. Our vision is to become the leading supplier of wirelessly connected lone worker safety monitoring products in the world. Blackline products allow customers to protect their personnel, share the conditions of their environment and connect with emergency services when necessary. Blackline solutions Protect. Share. Connect.® For more information, visit www.BlacklineSafety.com.
Neither TSX Venture Exchange nor its Regulation Services Provider (as that term is defined in the policies of the TSX Venture Exchange) accepts responsibility for the adequacy or accuracy of this release.
← Back to Newsroom