Our award-winning G7 is known for its complete approach to personal safety monitoring that pushes the boundaries of conventional gas detection and lone worker monitoring. It keeps tens of thousands of workers from hundreds of companies across the world safe as they face daily risks. For large-scale construction and facility maintenance projects — including shutdowns and turnarounds — it's critical to keep gas monitoring equipment running continuously. Also, some gas sensors draw more power from a gas monitor's internal battery, reducing battery life.
That's why we are launching our new G7 PowerPack, an external rechargeable battery accessory that clips to the back of any G7c or G7x wearable device. Adding a charged PowerPack doubles the battery life of G7 and makes it easy to maintain around-the-clock operations, swapping for another PowerPack when required.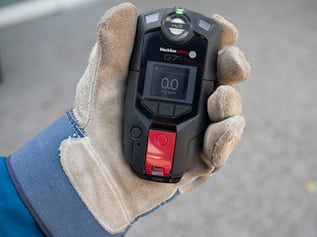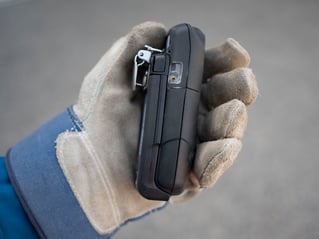 Easy to use and doubles G7 battery life
G7 PowerPack doubles the life of your G7, which has a regular battery life of 18 hours continuous operation at 20°C (68°F) and using standard LEL, H2S, CO and O2 sensors. This means that under normal conditions, and equipped with G7 PowerPack, your team is protected non-stop for up to 36 hours. Other gas sensors, such as our PID, and use of the optional G7 pump cartridge use more battery power, leading to a shorter battery life. These scenarios also benefit from G7 PowerPack, achieving double the battery life.
Using PowerPack is easy — it's hot-swappable and slides onto G7's charging port easily and clicks into place. G7 PowerPack charges using the same charging clip and wall-mounted charging stations as G7 units. Charge PowerPack individually or charge both G7 wearable and its installed PowerPack at the same time, just like you would for a regular G7 device.
Designed for shutdowns and turnarounds
Large-scale maintenance projects shift businesses from day-to-day operations of a facility or industrial plant to an intense and concentrated project that relies on the coordinated efforts of hundreds and sometimes thousands of on-site personnel. Shutdowns deliver critical facility maintenance, overhauls and refitting that took many months of careful planning. They often take several weeks to complete, usually occurring every few years. During such projects, it's critical to support every task with reliable gas detection.
G7 PowerPack makes it easy to share a fleet of G7 gas monitors across multiple shifts, keeping everyone safe moving forward while keeping their focus on the work at hand. During shift-change, PowerPacks can be removed from G7 devices and placed onto our charge banks to recharge. Fully charged PowerPacks can then be clipped onto the G7 gas detectors and issued to personnel on the next shift.
G7 Quick Assign
Blackline makes it easy to quickly assign shared G7 gas monitors between workers using our cloud-hosted software. Using a barcode scanner, on-the-fly G7 device assignments are easy, changing from one user in a few seconds. Simply scan the G7 unit ID, the employee's badge and they're ready to go. Combined with PowerPack, our complete connected safety system makes shift-changes a seamless operation, ensuring that your support teams are more efficient.
Uncompromised safety in any circumstance
Blackline revolutionized gas detection with G7 and the introduction of cloud-connected live safety monitoring. Businesses no longer need to rely on facility power or Wi-Fi connectivity that may be interrupted during a shutdown. G7 is the only safety monitor in the world that delivers true work-anywhere wireless, two-way voice calling, messaging, evacuation management, gas detection, location-mapping, data analytics and more.
Our PowerPack supports the readiness and awareness of your teams who face risks of gas exposure, slips, trips and falls, injuries and the potential for a health event due to heat exhaustion or an unexpected condition. G7 personal safety wearables fill the gap of monitoring lone workers and giving teams the tools to quickly mobilize a response to any situation. Ensuring that G7 monitoring equipment is able to operate continuously, around the clock, our new PowerPack provides the convenience to keep teams safely moving forward during extended work hours.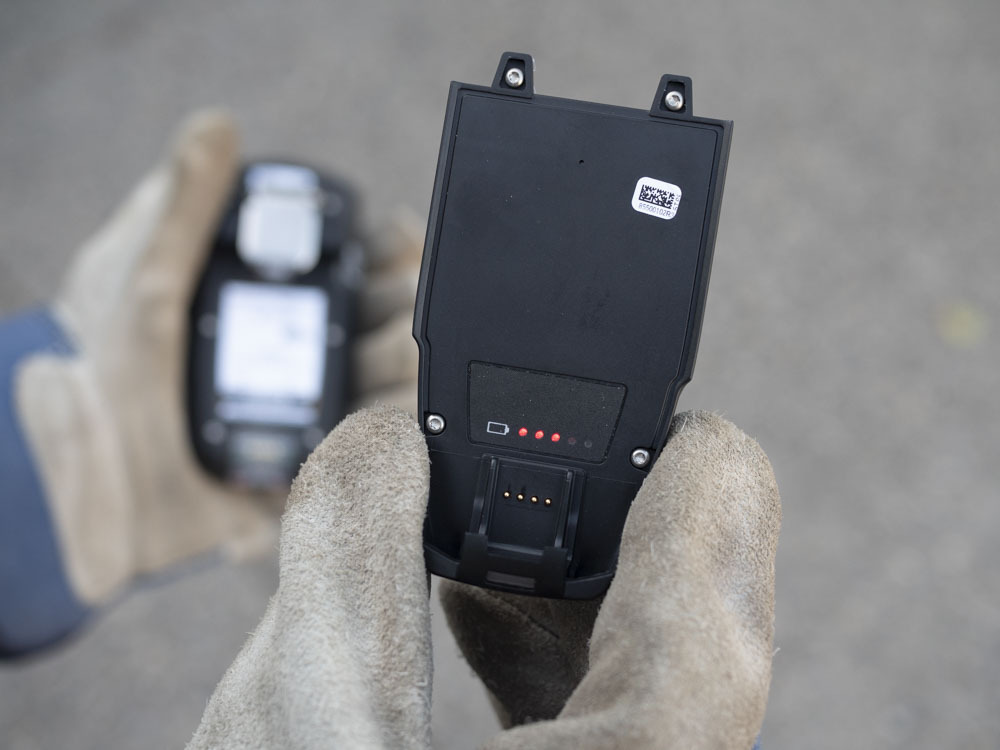 Learn more about G7 PowerPack
G7 PowerPack ensures full situational awareness for as long as your team needs it, making it easier and safer to manage turnarounds and shutdowns. Go into your next project knowing that you're supported through live monitoring to safely get the job done. Contact us today to learn more about how G7 PowerPack can support your team during shutdowns and turnarounds.