OH&S Magazine names G7 Insight New Product of the Year Awards for Internet of Things and Industrial Hygiene — Gas Monitors categories

Blackline Safety received two New Product of the Year Awards from OH&S Magazine in the United States in recognition of the innovative technology behind its G7 Insight program. With over 10 years of connected safety innovation, G7 Insight is the first gas detector to solve the challenges of managing a world-class, compliant gas detection program. Equipped with built-in cellular communications, an online compliance dashboard and automated data analytics tools, G7 Insight provides an easy upgrade path that makes it simple for businesses to adopt connectivity while minimizing change management efforts.
G7 Insight — Gas Detection Redefined
G7 Insight competed against the biggest names in health and safety by solving the challenges of regulating gas detection programs, using wireless connectivity and online software automation. While some competitors have introduced internet-connected docking stations to attempt something similar, they only address part of the problem, since compliance data is only collected from devices that have been recently bump tested or calibrated.
Businesses are required to ensure that their gas detection programs meet regulatory compliance standards. Conventional 'beep-and-flash' detectors require labor-intensive, manual processes of collecting this data, often resulting in a loss of productivity. Traditional practices can also involve taking devices out of the field to retrieve data logs, leaving room for human error in coordinating retrieval or recording data. G7 Insight eliminates the need for these practices by leveraging wireless connectivity and online software. Everything is automated — G7 devices constantly record compliance data and automatically upload it to the Blackline Safety Network when in areas of connectivity, eliminating downtime and risk of human error.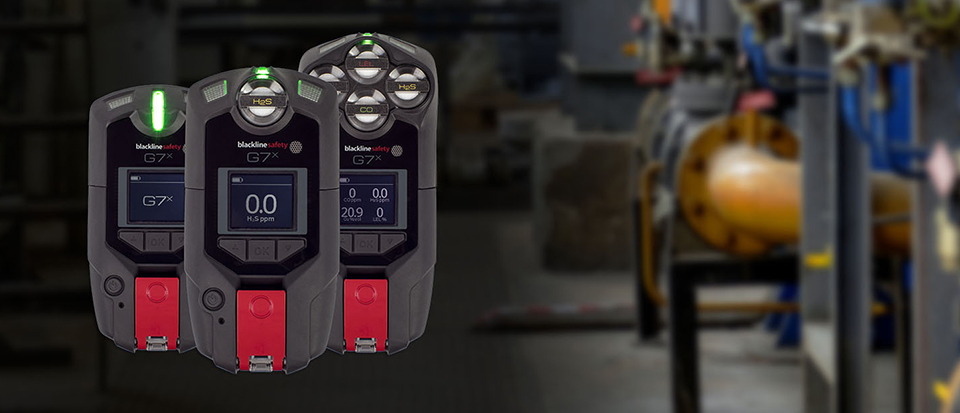 G7 Insight goes beyond regulatory compliance by providing users with a comprehensive look into their compliance data, displayed on a custom dashboard. Users can easily navigate their fleet's compliance status from any internet-enabled device, and quickly view which devices are in compliance and which require immediate attention.
When sensors on traditional gas detectors fail, the devices often need to be taken out of the field to be serviced. G7 sensor cartridges feature a lifetime warranty meaning if the sensor fails, it can be replaced in seconds. This allows users to maximize their productivity while staying safe in the field. New cartridges come pre-calibrated and ready to use, minimizing maintenance time and ultimately saving businesses money. Further, our upcoming G7 pump cartridge that supports confined space entry and leak checks also include a lifetime warranty.
Award-winning technology in workplace safety
OH&S' New Product of the Year Award program honors the outstanding product development achievements of health and safety manufacturers whose products strive to improve workplace safety. An independent panel of three highly qualified judges selected the winners for this year's tenth annual product awards. G7 will be featured in two categories of the December 2018 issue of Occupational Health and Safety Magazine.
Internet of Things Category
For the second year in a row, G7 secured its place among strong competitors vying for the title of the best new product in the Internet of Things space. Internet of Things describes the links between internet-connected devices that generate data which can be shared with its users. 2017 was a break-out year for the Internet of Things category, with G7 dominating since its inception.
Industrial Hygiene — Gas Monitors Category
G7 also won a New Product of the Year Award in the category of Industrial Hygiene — Gas Monitors. The area of Industrial Hygiene aims to improve lives, work conditions and productivity by protecting the health and safety of people in the workplace and in the community. G7 Insight is the only connected safety system that delivers automatic gas detection compliance and data analytics that works right out of the box. By blending comprehensive gas detection with optional real-time capabilities for lone workers and teams, G7 can evolve with your teams as your needs change. The connectivity behind G7 Insight powers the option for real-time situational awareness by alerting a live monitoring team of a gas exposure, injury or health event.
The Future of Safety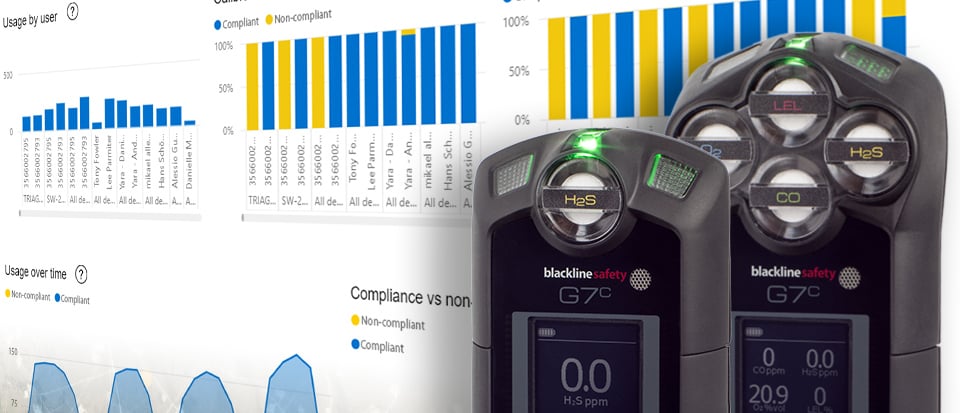 G7 Insight makes monitoring the safety of your team easy with Blackline Analytics. Data collected from G7 devices is compiled into an online analytics dashboard that allows for location-enabled gas readings, insights into alerts and all usage information. When a user is exposed to gas, the exact location of the exposure can easily be viewed allowing businesses to quickly identify problem areas. Users can also view emergency response times as well as areas where there may potential for facility maintenance or hazard mitigation. Data is displayed on comprehensive maps, tables and graphs, each of which are customizable according to the organization's needs. With G7 Insight, teams can feel empowered to make informed decisions that can improve the safety of their workers.
This year's awards mark Blackline's sixth OH&S awards, highlighting how we continue to redefine and dominate the gas detection space. Join the future of connected safety — contact us to learn how our G7 insight program can provide your team with the most advanced technology in workplace safety.