H2S exposure
As we talked about in Part One of our H2S Series, hydrogen sulfide is a fast acting poison, impacting many systems within the body. Wearable gas sensors are necessary for early detection and alerting, as the body's senses are not reliable indicators. Exposure to low levels of H2S gas within a short period of time will not usually produce adverse effects in a healthy person, though long-term exposure or exposure to high levels of the gas may result in immediate, lasting effects. To keep your team safe, an H2S detector with a fast response time and sturdy construction are important for use in the environments where H2S gas may occur.
The G7 difference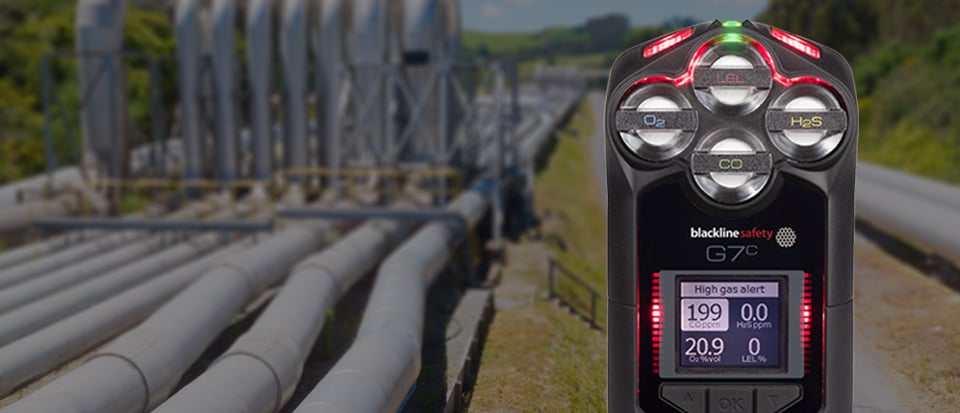 Traditional gas detectors function similarly to smoke alarms, alerting only the wearer and those in earshot of potentially hazardous surroundings. For gas detectors to deliver maximum value to users, wireless connectivity and live monitoring are crucial enhancements over traditional gas detection equipment. Blackline's new G7 solution provides encompassing, connected safety monitoring to supplement gas detection, for dangerous environments where H2S may incapacitate or render workers unconscious in no time.
G7 connects employees to Blackline's live 24/7 monitoring teams, who react instantly when an alert is communicated, providing immediate emergency response when required — should an employee call for help using G7's SOS latch, a fall be detected, or a gas alert triggered. With connectivity, worker confidence increases in hazardous environments, knowing they are connected and being monitored by real people.
H2S sensors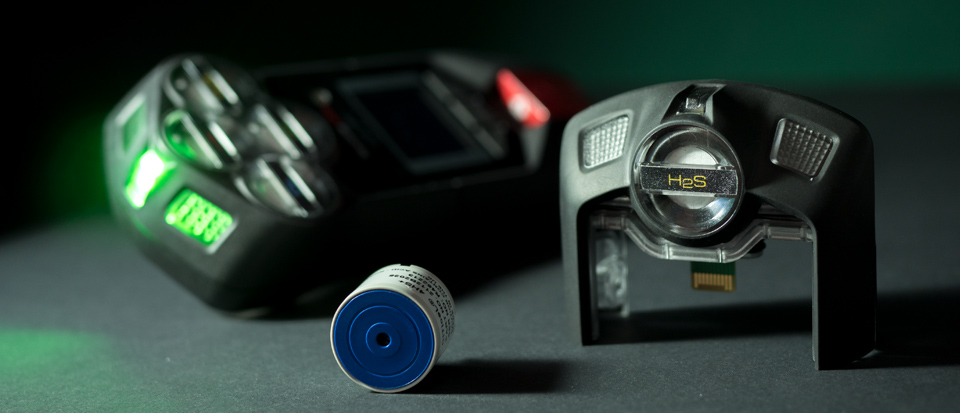 Blackline Safety utilizes the industry-standard electrochemical sensor for its H2S detector products, plus carbon monoxide and ammonia. In electrochemical sensors, the target gas undergoes a chemical reaction producing a current inside the sensor that is proportional to the concentration of gas present. A sensing electrode and counter electrode are in contact with and separated by an electrolyte. Gas enters the sensor and interacts with the working electrode where it is either oxidized, accepting oxygen and/or releasing electrons, or reduced, releasing oxygen and/or accepting electrons. The current produced is a direct result of how much of the target gas is oxidized or reduced at the working electrode. Blackline's electrochemical sensor has a lower detection limit for H2S of 0.5 ppm.
H2S detector — the benefits of live monitoring
H2S is a gas capable of rendering workers unconscious within just a few breaths at high levels — yet even when a worker can no longer self-rescue, it is not too late. Traditional gas detectors function similarly to smoke alarms, alerting only the wearer and those in earshot of potentially hazardous situations. In addition to a t90 response time providing a gas reading for H2S in 20 seconds, G7 also communicates any H2S detector readings above pre-set thresholds in real-time to live monitoring personnel. Employees who face an incident experience extreme stress. Even when they can't respond, monitoring personnel can be in constant contact with the affected worker via industrial two-way speakerphone.
Real-time emergency response management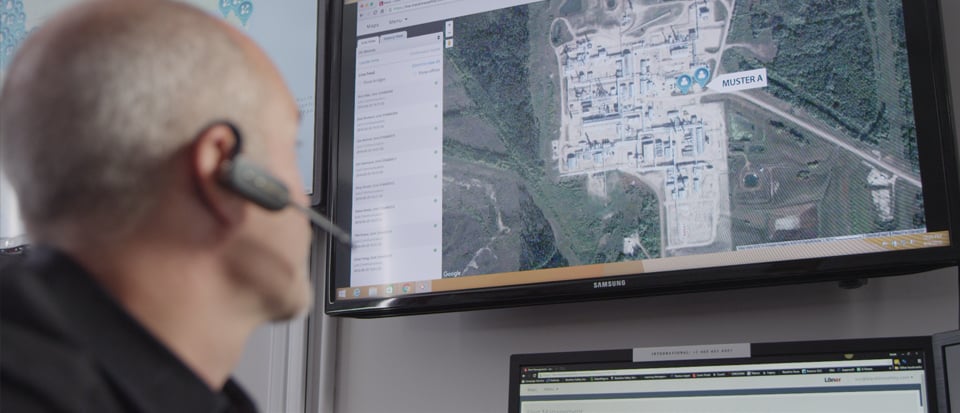 Following an incident, every second counts. In life-threatening situations, how an emergency response is managed could mean the difference between an optimized rescue and a recovery. When an alarm is triggered, should it be an H2S detector reading or a fallen employee, Blackline's live monitoring personnel spring into action.
00m 01s: G7 sends a high H2S alarm to the Blackline Live network
00m 02s: Blackline's live monitoring team receives the H2S detector reading and worker's location
00m 31s: Voice call is established with the worker
00m 40s: Team member receives voice alert, mustering them to a safe area OR nearest responders are notified and directed to the worker's location
With G7, rescues are optimized so more lives can be saved.
Gas detection compliance and reporting
With G7, all incident and gas detection data is communicated in real-time to the Blackline Safety Network for storage and reporting. Though H2S does not usually create lasting health effects after minor exposure to low levels, continued or prolonged exposure may result in chronic ailments. With G7 incident reporting, areas with persistent leaks can be identified so appropriate safety precautions can be taken.
An H2S detector or personal safety monitor cannot warn of a threatening event if they are not properly used. G7 is an all-in-one solution, cutting down the number of devices a worker needs to carry with them, and constantly tracks usage for reporting. Should an employee neglect to wear their device or use it appropriately, safety managers have the data to follow up with them accordingly.
Though H2S electrochemical sensors are very reliable, it is best-practice to ensure the sensor is regularly bump tested and calibrated to ensure accurate readings. G7 manages all calibration and bump test reminders over-the-air, alerting the using of upcoming due dates so compliance can be maintained. Data is then stored for reporting, communicated to Blackline's servers. With G7, the tools to manage your fleet and ensure compliance is available in real-time, at your fingertips.