In the first part of our two-part series about Industry 4.0, we talked about the four industrial revolutions that the world has seen up until this point. We also discussed connected safety in context of the digital transformation that many businesses are undergoing.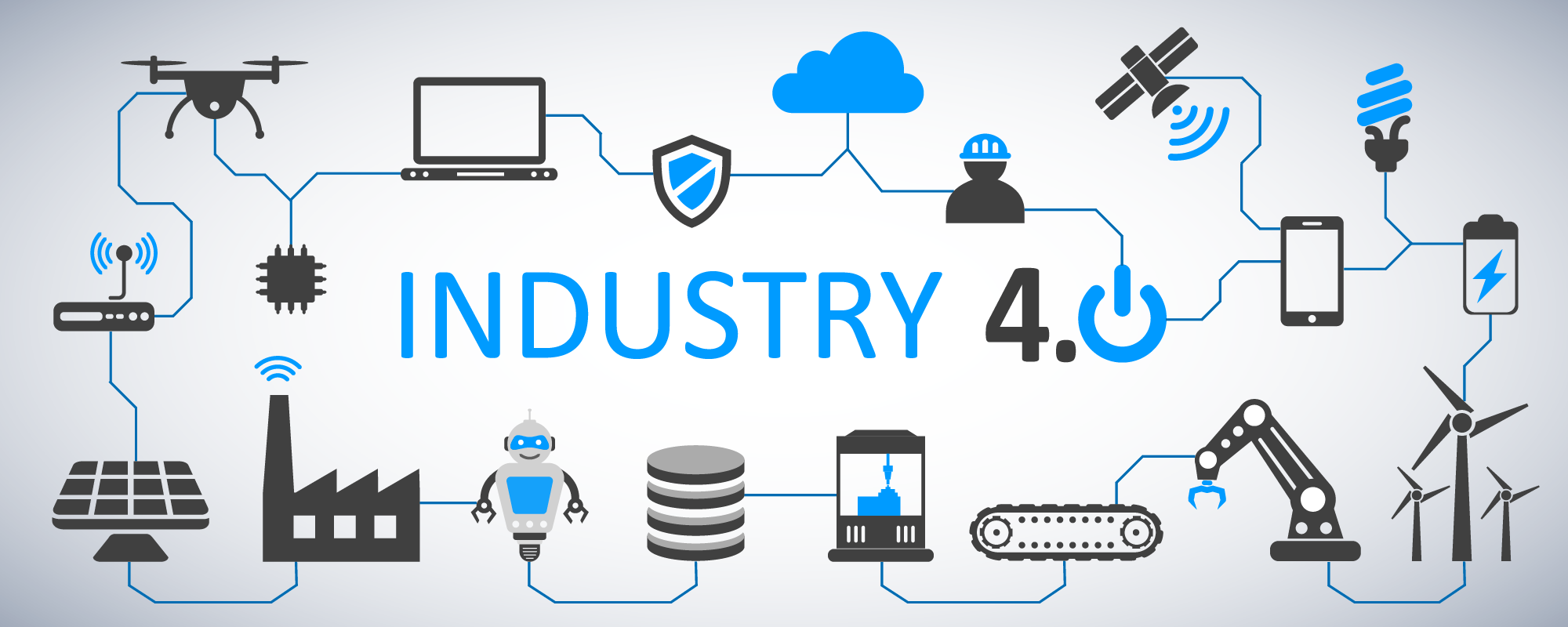 In this second article, we focus on businesses' adoption of connected safety and the value it brings to organizations. We also provide a convenient checklist to help you evaluate connected safety options.
FORTUNE 500 COMPANIES & CONNECTED SAFETY
More and more Fortune 500 companies are adopting connected safety solutions. In fact, our G7 connected employee wearables are now being used by 24

of the Fortune 500 companies. Our G7 safety wearables are the only

solutions in the world to deliver work-anywhere wireless, two-way voice communication, text messaging and evacuation management. It can be completely customized for every business. It is one tool that helps us provide

universal connected monitoring solutions for every industry and a broad range of scenarios, including gas detection, confined space entry, leak check, remote work, lone worker and productivity.



WHY ARE THEY ADOPTING CONNECTED SAFETY?
Blackline solutions provide businesses with the tools to monitor the safety of their workers, while providing them with insights to give these businesses a better understanding of their operations. Our wearables also record more data than any other solution on the market and automatically send it to the Blackline Safety Cloud to uncover actionable business insights, making them a powerful component of Industry 4.0 for industrial applications.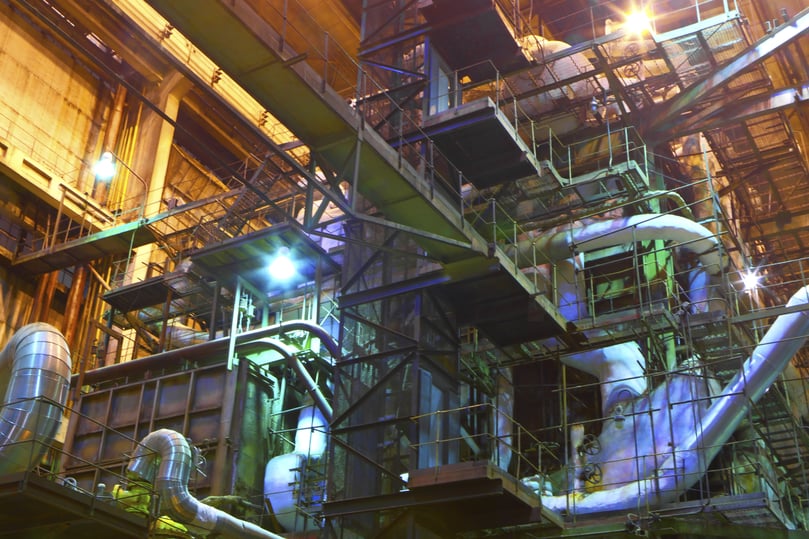 WE STARTED A GAS DETECTION REVOLUTION
Our team is comprised of industry veterans who have participated in Industry 4.0 by revolutionizing gas detection over the past 20 years. And we've done it again with G7 — the first highly-configurable and direct-to-cloud safety wearable with built-in cellular connectivity.
Every G7 device features direct-to-cloud wireless connectivity that links the worker in the field or facility with a live-monitoring team, like our Safety Operations Center (SOC) that operates around the clock. All data communicated from each wearable G7 device is location-tagged, powering the industry's most fully featured analytics platform. Blackline provides customers with a comprehensive view of gas detection regulatory compliance while keeping employees protected through real-time safety monitoring features.
HOW DOES IT ALL WORK?
G7 wearables feature cellular or satellite connectivity. This ensures that everyone, no matter how far apart, remains in contact. Each G7 device connects automatically and directly to the Blackline Safety Cloud, without the need of any infrastructure. There is no need to rely on Bluetooth, Wi-Fi or mesh networks to keep your workers connected.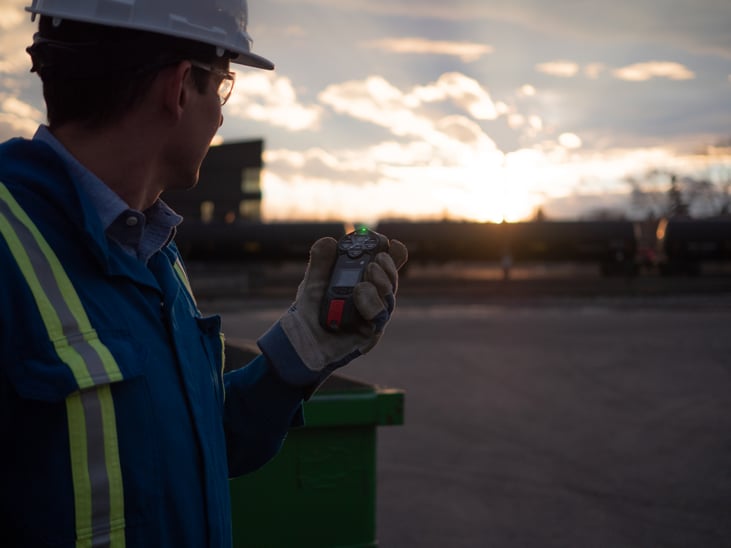 DATA-DRIVEN ANALYTICS
Big data and analytics are a key component of Industry 4.0 and businesses are investing more of their resources into deriving insights from this data. A 2019 Deloitte survey notes that 70% of business executives working at companies with a large workforce perceive data anlysis as a key priority — just as important as risk and reputation management. With access to new volumes of data and analytics, the industry can take a more proactive approach to addressing the safety, productivity and wellbeing of your workforce and develop meaningful insights and action plans to keep workers safe. By spotting trends in the data from G7 wearables, we're helping businesses avoid safety incidents before they happen.
THREE PRODUCTS IN ONE
Each G7 wearable provides the option to converge three products into a single device: a gas detector, walkie-talkie and a lone worker monitor. Every G7 device features plug-and-play cartridges that deliver unparalleled configurability. For example, one device can be configured as a lone worker monitor, four-gas detector, specialized photoionization (PID) detection instrument, and can be used just like a walkie-talkie. No other products on the market offer G7's versatility and robustness.
LIVE MONITORING
G7 connects wirelessly to the Blackline Safety Cloud and is monitored by a live team. While businesses can choose to leverage their own control room or supervisors to monitor their workers, many prefer to centralize employee monitoring with our in-house SOC that operates around-the-clock, 24/7. Our SOC is now monitoring over 25,000 safety devices across North America, the United Kingdom, Australia, New Zealand and beyond. Every alert is managed from onset through to resolution according to each client's customized emergency response protocol. Our team of highly-trained monitoring agents respond to alerts in under one minute nearly every time. Over the last 12 months, this has represented over 126,000 gas alerts alone.
CONNECTED SAFETY CHECKLIST
With more connected gas detection offerings emerging, it's worthwhile to help differentiate between solutions. Here's a quick checklist that highlights some important considerations when evaluating connected safety wearables.
Direct-to-cloud connectivity

A device that communicates directly to the cloud without relying on an external hub for connectivity (Bluetooth connection to a smartphone, industrial Wi-Fi network, etc.). This infrastructureless capability makes it easy when working with your IT team.

Connectivity by default

Some solutions are full-time gas monitors with the option of connectivity. Blackline's solutions are designed from the beginning around robust and automatic connectivity to cloud-hosted software.

User access control

A device or software that allows businesses to enable each user with specific access according to their needs. Only employees with specific permissions can access, edit and delete certain records. This is ideal for enterprises with different teams, so the needs of each employee can be customized depending on the user's role.

Location-enabled data analytics

All data should be tagged with the precise location of a user's device. Location-enabled data analytics allow businesses to view gas readings, confined space entries and locations of their personnel, giving users a deeper understanding into their operations. This data should empower businesses to proactively manage their programs and make informed decisions.

Easy configurability

The safety wearable should be highly configurable to offer a more flexible solution that can scale to meet the specific needs of a business and into the future. Blackline's G7 devices feature removable, customizable cartridges and monitoring capabilities that can be tailored to each user. All features are wirelessly configurable, over the air from our cloud-hosted software.

Simple and affordable docking station

Docking stations are often a significant investment and feature intelligence that aims to address the gas detection compliance challenge. The reality is that, combined with an intelligent and connected safety wearable, a simple dock that's easy to use is often the best option. With Blackline's G7 system, there's no compliance logs to retrieve — real-time compliance is at your fingertips.

Future-proofed design

Safety wearables must be designed for easy adaptation to the changing needs of a business. Instead of having to invest in a new device, future-proofed devices can easily be customized with new components or features to meet new requirements as a business evolves. Many of our clients adopt G7 for lone worker or gas monitoring applications and grow into other functionality as their needs shift.

Productivity

A solution designed with productivity in mind ensures that users don't have to interrupt their work-flow to communicate activities or confirm their safety throughout their shift. Devices that incorporate push-o-talk that works like two-way radio allows workers to have quick, day-to-day communications with team members without having to sacrifice their productivity.

Comprehensive location technology with assisted-GPS, location beacons and custom site and floor plans

Location-enabled devices provide businesses with situational awareness for visibility into the location of their teams. Assisted-GPS uses new technology for faster startups to ensure a location is available to tag every piece of data.

GPS signals can be unreliable inside commercial and industrial buildings or nearby large process equipment. Location beacons are a type of location technology that delivers an additional positioning signal for accurate employee locations.

Blackline's G7 wearables use assisted GPS and location beacons for precise positioning. Our cloud software also delivers custom site and floor plans to ensure that client businesses know the exact location of their teams under all conditions.
ABOUT ME
I have been working in the technology sector for over 20 years, having co-founded a Calgary-based high technology company with focus upon location-based services. As a member of Blackline's executive team, my current focus is marketing, business development, partnering and process improvement. Prior focus included software development and production services infrastructure management.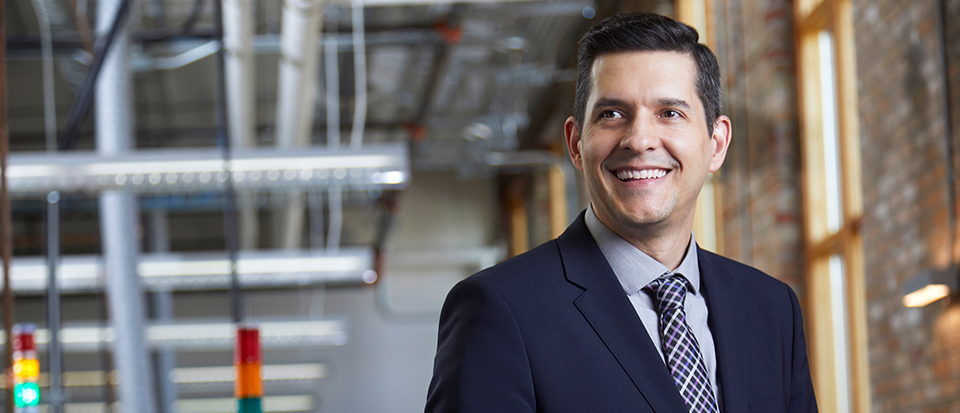 Brendon Cook, CTO and Co-founder, Blackline Safety