Traditional gas detector — a key part of safety programs
Many businesses we meet in the United Kingdom and Europe who are new to wireless gas detection and lone worker monitoring and are interested in understanding our award-winning G7 connected safety benefits compared to a traditional gas detector. This isn't a unique topic just to our team at Blackline Safety Europe — we thought that our Blackline readers around the world would be interested in an efficient comparison between old and new gas detector technologies.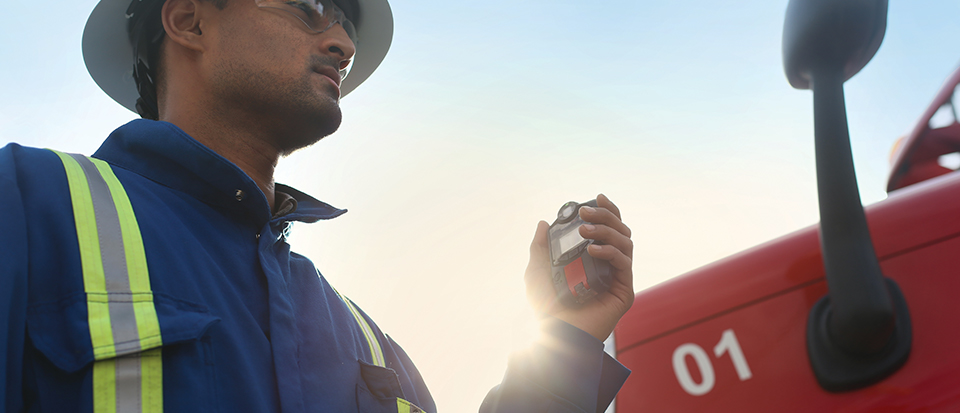 Traditional gas detector overview
G7 began shipping in 2017 and before then, businesses were only able to equip their teams with a traditional gas detector. While an important tool, these devices were little more than a combination of user interface — display, lights, audible alarm and vibration motor — combined with a processor, battery and sophisticated gas sensors.
The traditional gas detector's only purpose was to alert the user that gas readings in the area surpassed a preset threshold. From there, it's up to the user to get himself or herself to safety. Few agencies or groups directly address the topic of personnel working alone needing to self-rescue. For example, According to the Health and Safety Executive:
'The procedure at the higher-level alarm could be to initiate emergency procedures such as shutting the plant down and/or evacuating the building or site.'
While broad, this guidance is very important. However, the practical implications for some situations may be that personnel are not able to get themselves to safety — what then?
Traditional, disconnected gas detectors were state-of-the-art until just recently, yet the world has been connecting people and 'things' for some time now (home automation, voice assistants, video streaming, social networking, connected vehicles and more). It's time for a revolution, and Blackline has answered that call.
G7 connected safety overview
We developed G7 based on 10 years of experience in the industrial lone worker space. We combined our connected safety technology with our team's past experience in the gas detection space. While we're a new brand to users of a traditional gas detector, our product development team has revolutionized the safety industry before.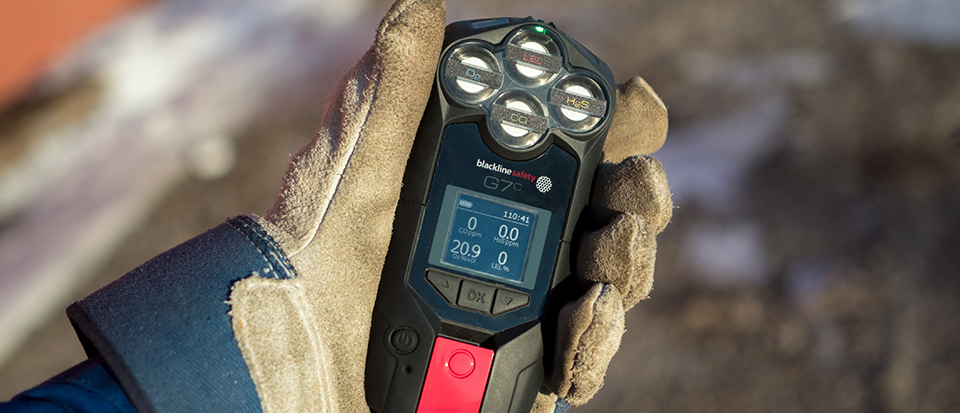 Similar to a traditional gas detector, G7 is an employee-worn device that features a great user interface, battery, processor and leading sensors. Additionally, G7 features 3G wireless and location technology that enables it to immediately alert a live monitoring team when an employee needs help. The monitoring team can then despatch responders to the employee's location.
G7c was named in 2017 as New Product of the Year in the category of industrial Internet of Things. It doesn't matter if it's a slip, trip or fall, an injury, a health event or a gas exposure — G7 automatically calls for help, even if the employee can't. A traditional gas detector would simply go into alarm, asking the employee to self-rescue and alerting only those in earshot.
Detailed Comparison
While this article is a bit longer than some of our others, there are many points of differentiation and value that G7 provides to customers.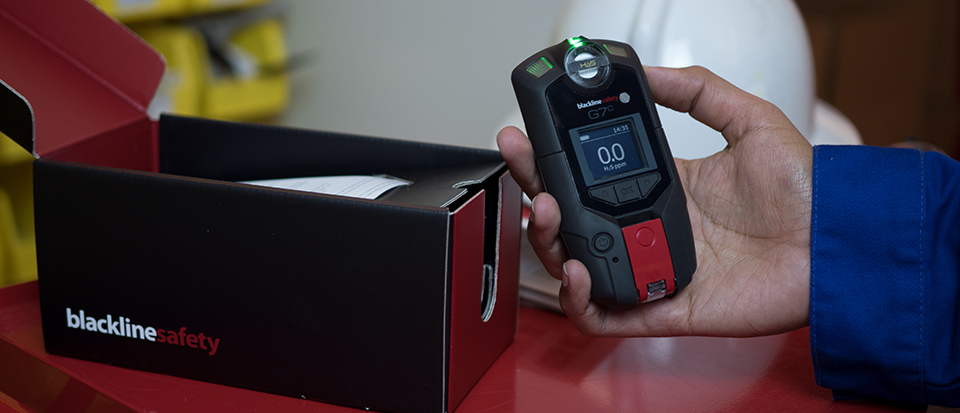 Size, weight and battery life
G7 and a traditional gas detector are very similar in size, weight and battery life — even a G7 device fitted with a Quad-gas Cartridge is comparable or smaller in size than a traditional solution. While the new generation of disposable four-gas detectors offers a long battery life in contrast to G7, the additional capabilities of G7 far outweigh the need for daily charging.
Real-time alerting
Unlike traditional gas detectors, G7 remains in constant communication with the Blackline Safety Network. With 3G wireless communications, G7 operates independently of a site's or facility's power system — if there's an on-site power failure, G7 will continue to monitor the wellbeing of your teams. Every employee's safety status is immediately visible to the live monitoring team. Should anyone require help, a monitoring agent is able to take ownership of the situation and manage the event through to the fastest resolution.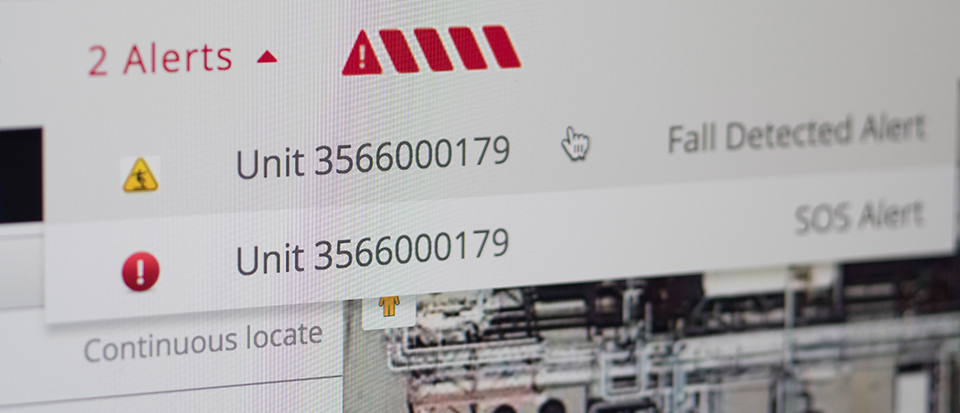 Cloud-hosted software
Unlike a traditional gas detector, G7 is supported by the Blackline Safety Network and Blackline Live safety monitoring portal. This infrastructure is hosted in the cloud to ensure that it can be accessed from any internet-connected device. If there's an on-site power failure, your G7 devices will continue to communicate with the Blackline Safety Network and your live monitoring team can keep an eye on your team's safety from any internet-connected device using our cloud-hosted software.
Communications — messaging and voice options
With built-in wireless communications, the live monitoring team is able to communicate with the employee through two-way messages. If it's the need for roadside assistance, responding to an injury or helping to control a gas leak, the monitoring team can assess the situation in order to optimise the response — without putting others at risk. G7 also offers the option of two-way voice calling that leverages an industrial-grade speakerphone built into G7 gas detectors.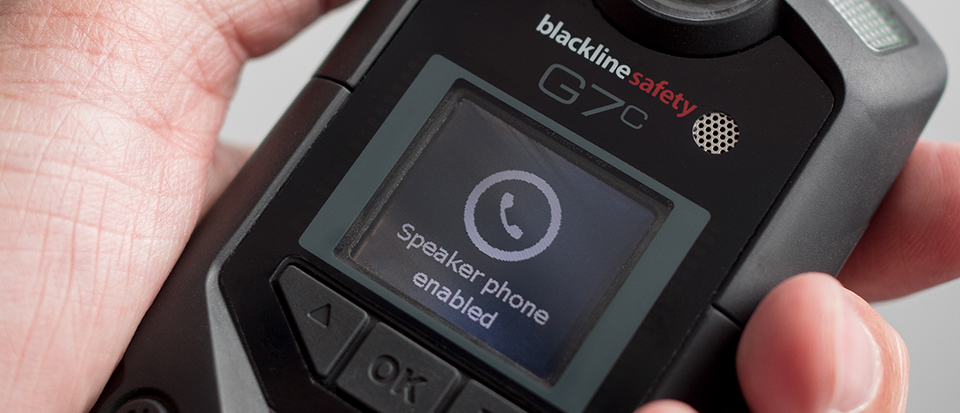 Lone worker monitoring — automatic features
G7 is much more than a wireless gas detector. It combines advanced lone worker monitoring and productivity improving features. On the lone worker front, G7 can detect falls and a man-down event where the employee is motionless, automatically alerting monitoring personnel. It also features a server-synchronized employee check-in schedule that anticipates the next employee check-in and alerts the live monitoring team if an employee hasn't checked in.
Live safety monitoring service
Many businesses are able to centralize employee safety monitoring responsibility to a control room or highly-available supervisors. Other businesses are better suited to offload the live monitoring and emergency response management team to Blackline's Alarm Receiving Centre partners in the United Kingdom and Europe. For North America and some locations internationally, Blackline's in-house Safety Operations Center (SOC) monitors the safety of employees. Blackline's SOC currently monitors over 11,500 devices and delivers an emergency response time of under 60 seconds 99.7% of the time (12 months of data).
Evacuation management
G7 devices empower businesses with the ability to confidently and proactively evacuate their personnel. The monitoring team can message personnel about a hazard and direct them to safety. Through connectivity and location technology, every employee's location and safety can be accounted for along the way.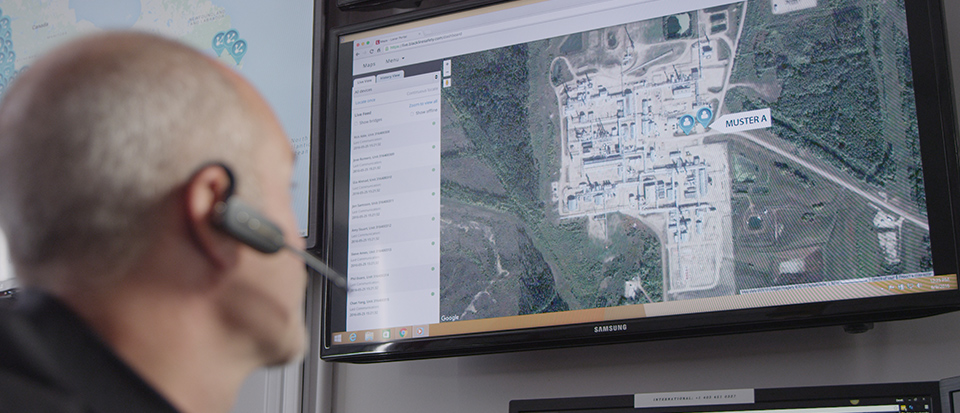 Customization and configuration
G7 devices are highly-customisable and remotely-configurable within Blackline Live. G7 administrators create device profiles that automatically and wirelessly configure G7 devices so they consistently function as they should.
Plug-and-play cartridges
G7 is the only gas detector and lone working system in the world that features field replaceable, plug-and-play gas sensor cartridges. This unique feature ensures that every G7 device is fully operational and stays in the field where it should be. If a gas sensor fails a bump test or calibration, the cartridge is easily changed out in seconds. No downtime equates to productivity gains by not having to logistically-manage the servicing of gas detection equipment. A cartridge-based interface also provides future-proofing — a simple cartridge replacement enables your teams to take advantage of new gas sensors and capabilities.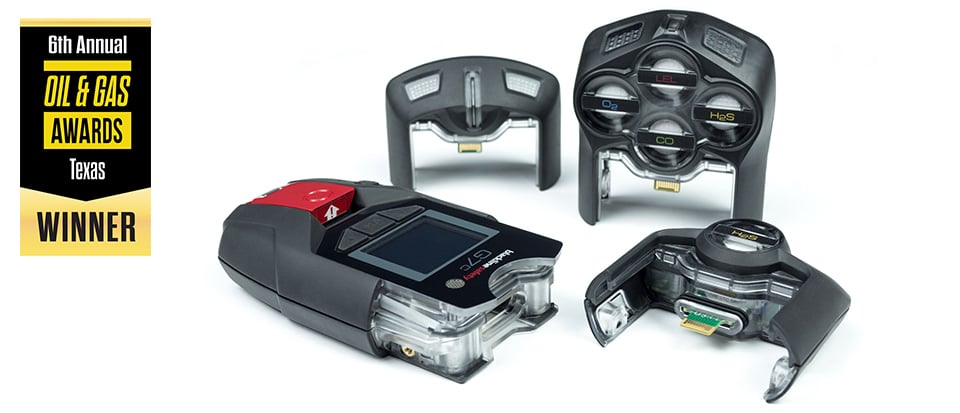 Over-the-air firmware updates
Similar to our wireless configuration changes that ensure every G7 device is correctly configured, G7 devices feature wireless firmware updates. We periodically update our G7 firmware and recently launched new support for multiple languages in the G7 interface. This firmware update was released at no additional cost to our customers but more importantly, the download of firmware to every G7 device in the field was seamless and resulted in zero downtime for customers. In contrast, a firmware update for a traditional gas detector would take 10s of hours to manage, depending on the number of detectors in the field. Even then, is every detector accounted for?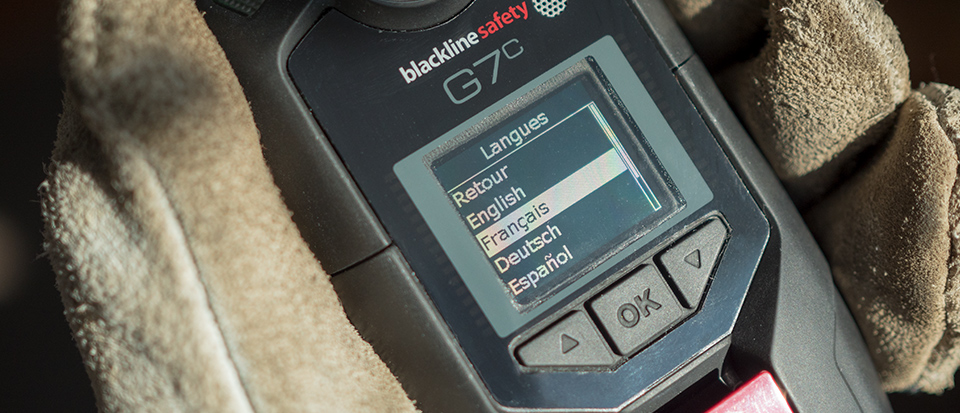 Real-time compliance
A key benefit of G7's connectivity is the ability to provide a real-time, transparent view of gas detection bump test and calibration status. This view of compliance data is only possible through real-time communications of every test and calibration. Taking it one step further, our Blackline Live monitoring portal also provides a view into employees' usage compliance — you'll be able to see who is using G7 and who may not be, to ensure that all equipment is being leveraged according to your policies.
Analytics
On your sites and in your facilities do your slips, trips and falls occur? What about your gas exposures? With Blackline's analytics software, we can show you in just a few clicks of your mouse. G7 safety monitoring equipment generates a considerable volume of data that empowers your decision-making. Business intelligence tools compile this data, making it easy to review your emergency response times, how long each alert takes to reach resolution and even how your teams are making use of the equipment.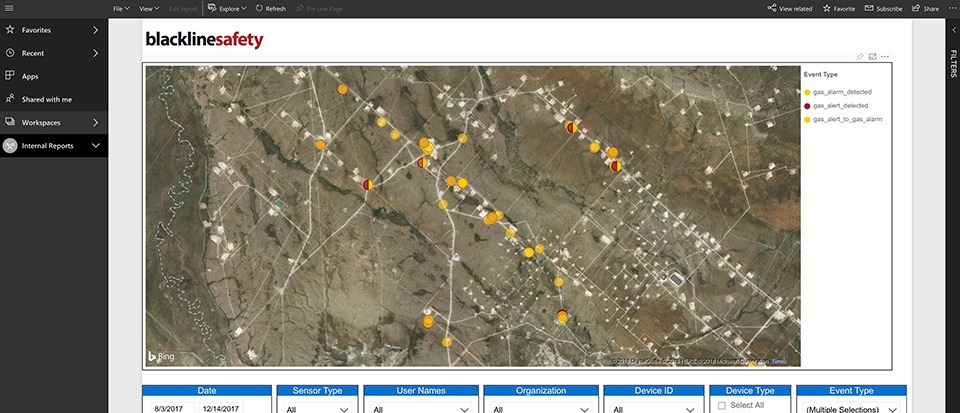 Productivity
Beyond wireless gas detection and lone worker monitoring, productivity is a core value of our G7 wireless gas detector and lone worker monitor. We provide productivity improvements through:
No intensive firmware update projects that may require a team to drive out to your sites and update every gas detector — we automate firmware updates so your equipment is always current
No configuration change projects requiring every gas detector to be pulled from the field — update every G7 device configuration in seconds
No more retrieving bump test and calibration logs from docks in the field — every test is immediately available within Blackline Live
No more compliance reporting — we take care of this for you through our business analytics software
During an evacuation drill, eliminate downtime and having to locate employees — see instantly where everyone is and get them out
No more gas detector downtime due to a failed sensor — simply swap the cartridge and G7 will be running in seconds
We're always available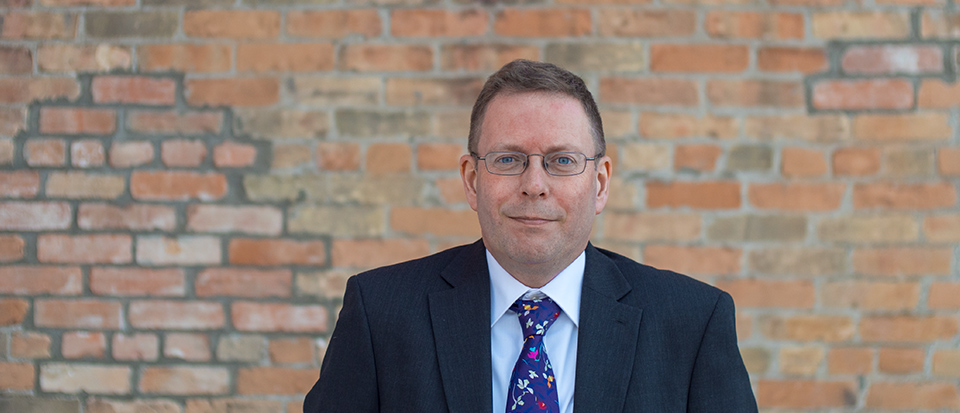 Gavin is the Managing Director for Blackline Safety Europe, and has been active in the world of safety and gas detection for more than 25 years. He has worked with companies such as City Technology, Det-Tronics, Crowcon, Alphasense, BW Technologies and GfG Europe. Gavin holds a BSc. In Applied Chemistry from Leicester Polytechnic (now DeMontfort University).
Reach out to our team at Blackline Safety anytime — we have your back.