Blackline Safety Ranks No. 201 on the 2017 PROFIT 500
September 14, 2017
Canadian Business unveils the 29th annual list of Canada's Fastest-Growing Companies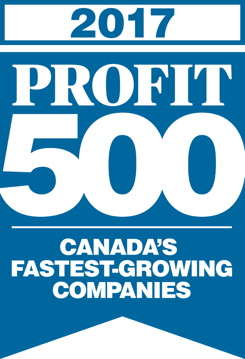 CALGARY, Alberta — Canadian Business and PROFIT today ranked Blackline Safety Corp. (TSXV:BLN) ("Blackline") No. 201 on the 29th annual PROFIT 500, the definitive ranking of Canada's Fastest-Growing Companies. Published in the October issue of Maclean's magazine and at CanadianBusiness.com, the PROFIT 500 ranks Canadian businesses by their five-year revenue growth.
Blackline Safety made the 2017 PROFIT 500 list with five-year revenue growth of 316%.
"It is never easy to earn a spot on the PROFIT 500, but this year's applicant pool was the most competitive yet," says Deborah Aarts, PROFIT 500 program manager. "This year's winners demonstrate the resilience, innovation and sheer management smarts it takes to build a thriving business today. Canada — and the world — needs more entrepreneurial success stories like these."
"Placing on the PROFIT 500 list for the fifth straight year underscores Blackline's success in connecting industrial workers to a live safety monitoring team," says Blackline Safety CEO and Chairman, Cody Slater. "Since last year's PROFIT 500 ranking, we are revolutionizing the safety industry with the introduction of G7. If an employee needs help due to an injury, health event or gas leak, G7 mobilizes the fastest possible emergency response to bring crucial help directly to the employee's location."
Blackline Safety is a global connected safety technology leader that delivers wireless employee-worn devices and cloud-hosted monitoring to help businesses keep their personnel safe on-site and in the field. In 2017, Blackline released its G7 family of wireless gas detection and lone worker monitoring solutions, defining a new level of employee safety. Unlike traditional gas detectors, G7c 3G-connected and G7x satellite-connected devices link workers to live monitoring personnel, no matter where they operate. For safety incidents, where every second counts, live monitoring personnel answer the call for help, managing the most efficient emergency response possible.
G7 is a modular system with a series of plug-and-play, field-replaceable cartridges that support lone working, single-gas and multi-gas detection requirements. Highly configurable for every employee role and work scenario, G7 profiles stored within Blackline's cloud-hosted monitoring portal ensure that every G7 device is correctly configured. G7 configuration profiles and firmware updates are pushed automatically and wirelessly to all devices in the field — eliminating costly downtime compared to maintaining individual gas detectors.
Recently, Blackline's G7c device was named New Product of the Year by OH&S Magazine and it previously won a 2017 Red Dot award for its innovation and product design — one of the world's most prestigious design achievements. To learn about Blackline Safety, visit www.blacklinesafety.com and follow on Twitter @blacklinesafety.
About the PROFIT 500: For 29 years, the PROFIT 500 has been Canada's most respectable and influential ranking of entrepreneurial achievement. Developed by PROFIT and now published in Maclean's magazine and at CanadianBusiness.com, the PROFIT 500 ranks Canadian companies on five-year revenue growth. For more information on the ranking visit PROFIT500.com or CanadianBusiness.com.
About Canadian Business: Founded in 1928, Canadian Business is the longest-serving and most-trusted business publication in the country. It is the country's premier media brand for executives and senior 5 business leaders. It fuels the success of Canada's business elite with a focus on the things that matter most: leadership, innovation, business strategy and management tactics. Learn more at CanadianBusiness.com.
About Blackline Safety: Blackline Safety is a global connected safety technology leader. Providing comprehensive live-monitoring and wireless gas detection, we help teams working in hazardous environments respond to emergencies in real-time and manage efficient evacuations, accounting for everyone's safety along the way. With millions invested in technology research and development, Blackline Safety is recognized for quality and innovation. Our talented team of designers and engineers create and manufacture everything in-house — from wearable technology and personal gas detectors to cloud-hosted infrastructure and web-based interfaces for global industry. We deliver the world's first turn-key, work-anywhere connected safety monitoring solution with gas detection, 3G wireless, satellite communications, two-way speakerphone, employee messaging and live monitoring to meet the demanding safety challenges of organizations in over 200 countries. For more information, visit www.BlacklineSafety.com.
Neither TSX Venture Exchange nor its Regulation Services Provider (as that term is defined in the policies of the TSX Venture Exchange) accepts responsibility for the adequacy or accuracy of this release.
← Back to Newsroom