Blackline Safety receives $1.1M purchase order from governmental safety agency
December 19, 2018
Purchase order includes three years of Blackline's industry leading Safety Operations Center service with G7c cellular and G7x satellite-connected devices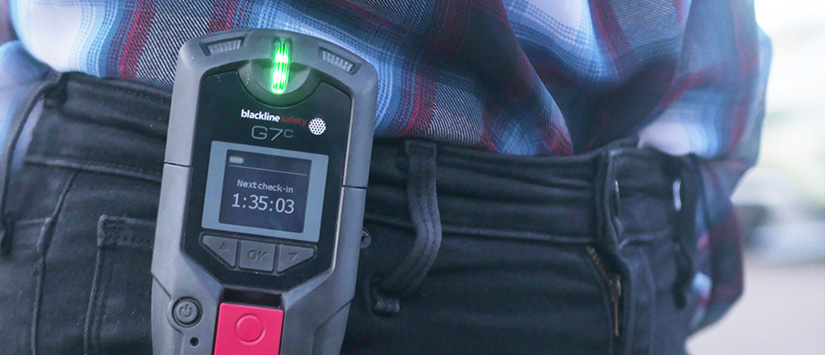 Calgary, Canada — A prominent safety agency in Canada has purchased $1.1M of Blackline Safety Corp. (TSXV: BLN) connected safety products and services to replace their previous generation of Blackline monitoring solutions. Under this order, Blackline will ship its G7c cellular-connected and G7x satellite-connected employee wearables with three years of safety monitoring service to help keep field teams safe. Included in this order is online access to Blackline's cloud-hosted safety monitoring software, data analytics and 24/7 live monitoring services provided by Blackline's in-house Safety Operations Center.
"A long-term government customer opened a public tender for the next phase of their lone worker program to ensure that they were using the right technology to keep their teams safe," said Sean Stinson, VP Sales & Product Management at Blackline Safety. "Having won this agency's business for a second time, there's no question that our G7 portfolio comprehensively fulfills customer expectations compared to other vendors' offerings. Government agencies are under additional pressure to ensure they're spending public money responsibly, so this is a testament to the value that Blackline provides customers for non-industrial settings. We are proud to have been chosen as the solution to protect those whose job it is to protect others in the workplace.
Blackline's G7c and G7x employee-worn safety monitoring devices include automatic incident detection including falls and no-motion, plus an employee check-in schedule. Both include an SOS latch that employees can use to instantly call for help and a two-way messaging feature that allows the employee to communicate with the live monitoring team, providing situational awareness during an incident. Integrated location technology pin-points the employee's location on a map, enabling Blackline's live monitoring team to manage a real-time emergency response. State-of-the-art cloud-hosted monitoring software makes it easy to administer the overall safety monitoring system while providing the tools to ensure every device is correctly configured and set up for live monitoring. Configuration profiles automate the process of customizing G7c and G7x devices, while alert profiles define how each alert is to be managed, the corresponding response protocol and the escalation path.
G7c is a self-contained safety device and features internal cellular communications. For locations beyond the reach of cellular networks, Blackline's G7x wearable and the G7 Bridge portable satellite base station system manages the satellite uplink to the Blackline Safety Network. An industrial-grade radio link connects G7x and G7 Bridge devices and offers up to 2 km range, allowing employees to work indoors while being monitored.
To learn more about Blackline Safety's connected portfolio, visit www.blacklinesafety.com and follow Blackline on Twitter @blacklinesafety.
About Blackline Safety: Blackline Safety is a global connected safety technology leader. Providing comprehensive live-monitoring and wireless gas detection, we help teams working in hazardous environments respond to emergencies in real-time and manage efficient evacuations, accounting for everyone's safety along the way. With millions invested in technology research and development, Blackline Safety is recognized for quality and innovation. Our talented team of designers and engineers create and manufacture in-house — from wearable technology and personal gas detectors to cloud-hosted infrastructure and web-based interfaces for global industry. We deliver the world's first turn-key, work-anywhere, connected safety monitoring solution with gas detection, 3G wireless, satellite communications, two-way speakerphone, push-to-talk, employee messaging and live monitoring to meet the demanding safety challenges and increase productivity of organizations in over 100 countries. For more information, visit www.BlacklineSafety.com.
Neither TSX Venture Exchange nor its Regulation Services Provider (as that term is defined in the policies of the TSX Venture Exchange) accepts responsibility for the adequacy or accuracy of this release.
← Back to Newsroom