Blackline Safety G7c achieves final approval for North America
May 9, 2017
Single-gas and Quad-gas cartridges with 'LEL' sensor approved for field use, G7c now shipping globally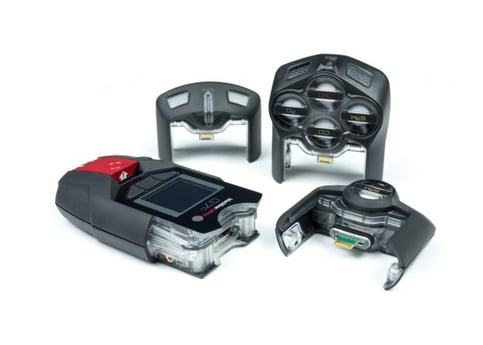 Calgary, AB — For the North American marketplace, Blackline Safety (TSX VENTURE: BLN, "Blackline") has achieved a mandated certification for construction, performance and test of its G7c gas detection instrument equipped with a combustible gas sensor. Blackline's G7c is now fully certified for sale in all major markets.
Employees in many industries face the hazard of working in environments with the potential for exposure to combustible or flammable gases such as natural gas, hydrogen and acetylene. Combustible gas sensors measure the lower explosive limit (LEL) of flammable gases, expressed as a percentage of the lowest gas concentration that could result in an explosion if ignited.
"It is crucial for employees working in proximity to combustible gases to have a reliable, accurate atmospheric gas reading that describes the explosion risk level," said Barry Moore, VP Product Development at Blackline Safety. "Should a dangerous leak occur, the employee must evacuate that zone immediately." He added, "It's equally important that wireless gas detection equipment alert live monitoring personnel to empower an immediate response, minimizing risk to other personnel and reducing the potential for property damage while ensuring continuity of operations."
G7c is a highly customizable gas detection instrument that empowers the fastest possible emergency response — directly to an employee's location. Featuring internal 3G wireless communication, location technology and automatic incident detection capabilities, G7c alerts live monitoring personnel when an employee requires help. A built-in industrial-grade speakerphone automatically answers, allowing monitoring personnel to speak directly with the employee to assess the situation and customize the response. Nearby co-workers are easily dispatched as the first responders who can appropriately prepare for atmospheric hazards at the employee's location.
A series of field-replaceable cartridges expand G7c functionality, tailoring operation for lone working scenarios plus environmental gas detection and evacuation management requirements. Single-gas and Quad-gas cartridges now support an LEL sensor to detect combustible gases. Industries where personnel enter confined spaces often leverage a quad-gas instrument with combustible gas, hydrogen sulfide (H2S), carbon monoxide (CO) and oxygen (O2) sensors. G7c is the only quad gas instrument with 3G wireless and a two-way speakerphone that connects the employee with a live monitoring team.
G7c has achieved certification for its LEL sensor construction, performance and test according to CSA C22.2 NO. 152-M1984 (R2016) Combustible Gas Detection Instruments and ANSI/ISA-S12.13: 2000 Performance Requirements for Combustible Gas Detectors.
To learn more about Blackline's employee safety monitoring solutions, visit www.BlacklineSafety.com and follow Blackline on Twitter @blacklinesafety.
About Blackline Safety: Blackline Safety is a global connected safety technology leader. Providing comprehensive live-monitoring and connected gas detection, we help teams working in hazardous environments respond to emergencies in real-time and manage efficient evacuations, accounting for everyone's safety along the way. With millions invested in technology research and development, Blackline Safety is recognized for quality and innovation. Our talented team of designers and engineers create and manufacture everything in-house - from wearable technology and personal gas detectors to cloud-hosted infrastructure and web-based interfaces for global industry. We deliver the world's first turn-key, work-anywhere connected safety monitoring solution with gas detection, 3G wireless, two-way speakerphone and live monitoring to meet the demanding safety challenges of organizations in over 200 countries. For more information, visit www.BlacklineSafety.com.
Neither TSX Venture Exchange nor its Regulation Services Provider (as that term is defined in the policies of the TSX Venture Exchange) accepts responsibility for the adequacy or accuracy of this release.
← Back to Newsroom