Pipeline company orders Blackline's lone worker safety monitoring technology
December 15, 2015
Energy sector invests in most important resource-its employees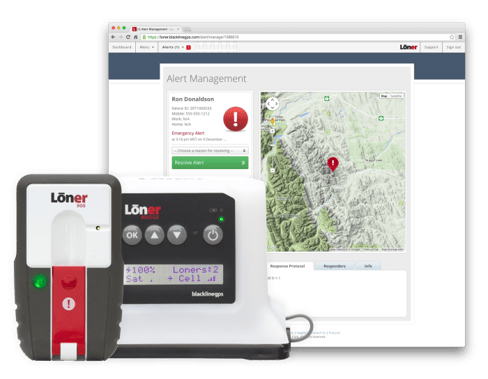 Employees are vital to the success of every organization and their ongoing wellbeing is a top priority for all organizations. Today Blackline Safety Corp. ("Blackline") (TSX VENTURE:BLN) announces that a prominent Calgary-based pipeline company purchased over $440,000.00 in Loner Bridge Systems and services to monitor their lone workers.
"Ensuring the ongoing safety of personnel through a region as large as Western Canada requires a universal approach-we designed our Loner Bridge System for precisely this purpose," says Cody Slater, Blackline's CEO and Chairman. "This solution is the only true, last-mile option available for businesses to monitor their personnel everywhere-within hazardous environments, across large fields of operation and throughout complex facilities."
Blackline's lone worker monitoring solutions bring value to a diverse base of industries including utilities, research labs, manufacturing, transportation and service companies. Although energy sector commodities have softened over the last year, Blackline has received several orders from top-tier upstream and mid-stream organizations since the beginning of its fourth quarter.
"Challenging economic times place more pressure on businesses to perform, requiring high productivity with fewer resources," says Sean Stinson, Blackline's VP Sales & Product Management. "Our customers have found they can improve employee safety and save money with Loner equipment compared to manual check-in processes or older technology." He adds, "Making it even easier for companies in this economic climate, our new Loner Complete program delivers everything required to deploy a best-in-class safety monitoring program-without an upfront capital purchase."
Blackline's broad Loner safety monitoring portfolio empowers organizations in all industries and geographic locations with real-time safety incident awareness, delivering help within minutes instead of hours or potentially days later. To learn more about Blackline's work-alone safety monitoring solutions, visit www.BlacklineSafety.com and follow Blackline on Twitter @blacklinegps.
---
About Blackline: Blackline Safety Corp. (TSX VENTURE:BLN) is a wireless location leader that develops, manufactures, and markets products and services for lone worker safety monitoring. Targeting every industry, employee role and location, our Loner® solutions are promoted through offices in Calgary and the United Kingdom and sold through a growing network of international distributors. Loner products alert monitoring personnel of a safety incident, locate the employee and empower the most efficient emergency response-Alert. Locate. Respond.™ Our vision is to become the leading supplier of wirelessly connected lone worker safety monitoring products in the world. For more information, visit www.BlacklineSafety.com.
Neither TSX Venture Exchange nor its Regulation Services Provider (as that term is defined in the policies of the TSX Venture Exchange) accepts responsibility for the adequacy or accuracy of this release.
← Back to Newsroom