By: Lohrasp Seify, Director of Data Science, Blackline Vision
On January 21, U.S. President Joe Biden began his term by signing the Executive Order on Protecting Worker Health and Safety, stating that government agencies must support industry by providing "science-based guidance to help keep workers safe from COVID-19 exposure."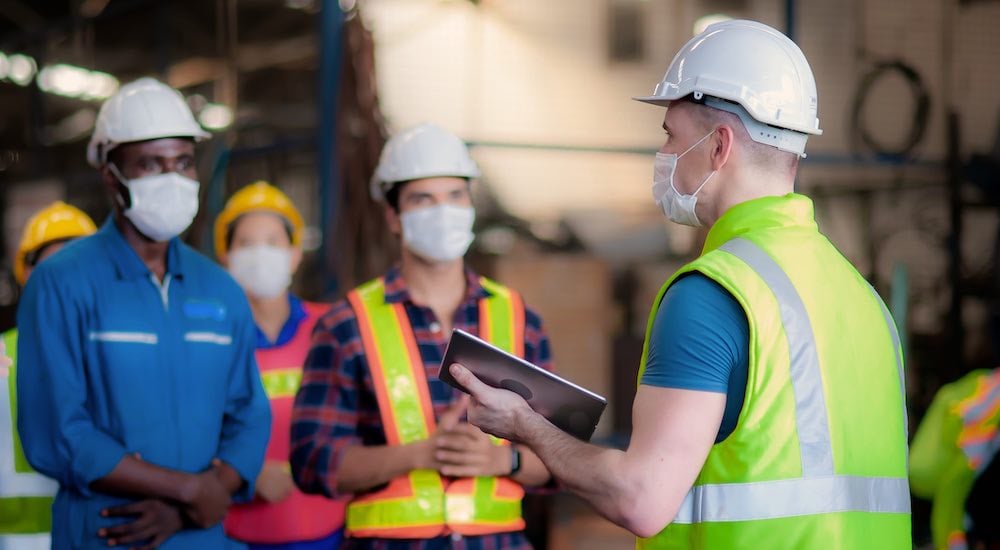 And just one week later, the Occupational Safety and HealthAdministration (OSHA) released a 6,000-word report detailing new guidelines on protecting workers by mitigating and preventing the spread of COVID-19 in the workplace. The article features the "normal" pandemic protocols such as wearing facemasks, washing your hands and remaining more than six feet apart. However, there is some new guidance that reflects the latest developments in science, best practices and standards.
To help health and safety professionals digest these recommendations, our team broke down the extensive report into the key insights below. We specifically focused on measures that industrial organizations must know and prioritize to protect their workers in today's landscape, and can successfully follow through utilizing a connected approach to safety.
OSHA Guideline #1:

Assignment of a workplace coordinator who will be responsible for COVID-19 prevention on the employer's behalf.
As an HSE or safety manager reading this blog, the responsibility of managing COVID-19 protocols in the workplace likely falls on you or a member of your team. As the COVID-19 workplace coordinator, it's critical you assess what tools and processes are needed to keep your people safe - especially in the fragile and fluid environment we are all facing as more organizations continue to welcome a higher number of employees back to work.
The old-school practices of paper documentation and verbal testimony lack the real-time insight to drive effective decision making, even with a dedicated team member focused on safety practices. For example, this workplace coordinator has the heavy responsibility of ensuring quick and efficient contact tracing protocols are in place in the event of a positive test. Every organization should equip the coordinator with tools that regularly gather information about tradespeople and the worksite so he or she can do the job successfully.
OSHA Guideline #2:

Identification of where and how workers might be exposed to COVID-19 at work.
OSHA recommends safety teams conduct a "thorough hazard assessment to identify potential workplace hazards related to COVID-19." Worksite locations such as lunchrooms, the tool crib, a shuttle bus or other high-congestion areas are obvious threats, but there may be others that are less evident.
This is where data science can play a highly effective role. No matter how many tradespeople you employ or contract to, or the size of your workplace, data can bring greater visibility into the precise location of high-risk areas across the worksite.
To help our customers, the Blackline Vision team analyzed the 2.5 billion location-enabled data points produced by our safety wearables and visualized them in a heat map on our Blackline Live portal. This map allows customers to see where their workers congregate in close proximity, helping them identify unexpected "hot spots" where risk of exposure and transmission is higher.
This is just one example of how organizations can visualize information and make policy adjustments to proactively make their workplace safer with data-backed insight.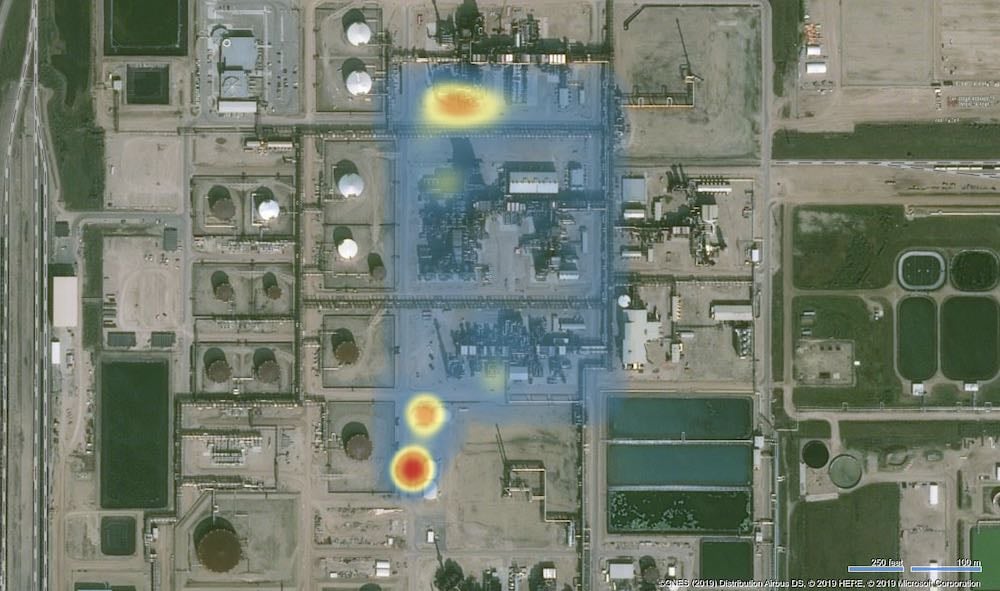 Blackline Vision's Duration Heat Map gives a visual representation of where workers are in close contact, helping managers identify unexpected "hot spots" across a worksite
OSHA Guidelines #3 & #7:

Identification of a combination of measures that will limit the spread of COVID-19 in the workplace, including instructing workers who are infected or potentially infected to stay home.
While these sections of OSHA's report focus on several guidelines, the most important takeaway is that industrial workforces need a detailed plan for if or when a tradesperson tests positive for COVID-19. To help organizations respond quickly in the event of a positive test, OSHA suggests "eliminating the hazard by separating and sending home infected or potentially infected people."
The key words here are "potentially infected." In this circumstance, bulletproof contact tracing is of the utmost importance. Over the past year, several companies have suffered from the lack of or gaps in workplace contact tracing, which resulted in organization-wide shutdowns and lost revenue.
For organizations that produce or provide essential goods and services and employ tens to thousands of people, waiting two weeks to discover who else on your worksite was infected, and needing to activate a complete shutdown, simply isn't an option. Companies need to deploy thorough contact tracing practices to know almost immediately who was in contact with those infected, leverage data to prove it and take decisive action.
Mitigate the spread of COVID-19 through contact tracing safety management software.
The good news is certain gas detection and lone worker devices are already performing contact tracing, so you just need a way to capture and review the data to your benefit. In the midst of the pandemic, our team addressed this need by developing industrial contact tracing solutions in a matter of weeks.
Using location-enabled and Bluetooth data from our G7 devices, businesses can easily identify and address locations where employees work in close proximity to one another. Should an employee present symptoms or test positive for the COVID-19 virus, our contact tracing report can be used to retrace the individual's steps and identify any colleagues who are an infection risk from being within six feet of that employee.
Additionally, our close contact detection feature provides users with a real-time, proactive warning when they enter close proximity with another G7 user through a notification on their device screen, accompanied by flashing lights and vibration. Together, these solutions have ensured the safety of employees during the COVID-19 pandemic and beyond.

Blackline Safety's contact tracing reports enable businesses to retrace an infected worker's steps and identify others who may have come in close contact.
OSHA Guideline #5:

Establishment of a system for communicating effectively with workers.
Building on the above section of assigning a COVID-19 workplace coordinator, and giving them the tools needed to succeed, OSHA suggested that organizations "create and test two-way communications systems." This system may be used by workers to "self-report if they are sick or have been exposed," or if the coordinator needs to immediately "notify workers of exposures and closures, respectively."
This scenario is where modern connected safety devices, such as Blackline's portfolio of G7 wearables, have been so effective for industrial teams around the world. These solutions simultaneously enable a workplace coordinator and his or her team to communicate regarding COVID-19 developments in real-time, while also providing gas detection and lone worker monitoring in a time when more people are working alone than ever before.
Finding a Solution to Follow OSHA's Guidelines and Protect Your Workforce
In response to the threat of COVID-19, governments and industries have developed several guidelines that are ever-changing. Some standards, such as remaining six feet apart, working from home and limiting personnel on-site, are often difficult to achieve for industries such as construction, healthcare and oil & gas.
That's why developing a sound plan to mitigate exposure and the spread of COVID-19, especially as more employees return to work, has become critical. As many organizations have found over the past year, developing a plan of this nature can require significant changes in practices and day-to-day operations.
To provide a seamless solution for its customers, our team at Blackline Safety quickly recognized the value and insights that its connected safety, gas detection and lone worker devices already had through its GPS-enabled data. Within a matter of weeks, the contact tracing and close contact detection solutions outlined above were developed at no cost to customers already using our personal safety devices, and included it in all future purchases with no change in price.
As we continue our fight against COVID-19, it's our priority to educate and equip you with what you need to keep your essential workers safe so they can work with confidence. Contact a member of our team today to learn more about these connected safety solutions that can help you protect your people and mitigate the spread of COVID-19 within your organization.
See Our contact Tracing Solutions
READ MORE: Innovations in safety during the COVID-19 era