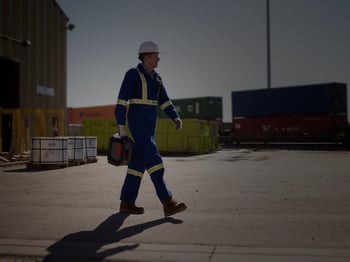 A lone working policy can be one of the most important ways an organization can protect the health and safety of its employees. It can help keep you prepared to respond to any emergency and empower lone workers to take more responsibility for their own safety on the job.
Lone workers should be as safe as every other worker in your organization. By developing a practical guide for employees and managers, your lone working policy can help ensure everyone is safe, no matter where or how they work.
WHAT IS A LONE WORKING SAFETY POLICY?
A lone working safety policy establishes your organization's rules for employees who work by themselves with no close supervision. For a lone working policy to be effective, it should provide clear and simple guidance for safely working alone, the risks that employees may face, the process for coordinating an emergency response, the tools and processes your organization provides to protect the health and safety of lone workers, how incidents must be assessed and reported, and more.
ESSENTIAL ELEMENTS OF A LONE WORKER SAFETY POLICY
Your lone working policy should be customized to the needs of your organization and your teams. However, there are common key elements that any company should include in their lone worker policy in addition to a statement of the policy itself.
A statement of the purpose of the policy: To help foster engagement, offer your reasons for creating the policy, how it will help keep lone workers safe and how it aligns with your organization's goals.
Identification of the specific risks of lone working in your organization: Every organization's lone workers perform their jobs under unique circumstances. Include a list of the risks that apply to different roles in your organization.
Roles and responsibilities: A lone working policy is more than just a document — it requires the participation and contributions of workers, managers, safety teams and others in order to be effective. Specify each person's responsibilities, such as what employees can do to keep themselves safe and how and when managers must report an incident.
Reporting procedures: Clearly list the steps to be taken to report an incident. If you have more than one channel for reporting, provide instructions for each.
Contact information: Make it easy for employees to get answers to their questions and share any concerns they may have about safety issues.
In the next section, we'll expand on these elements and provide an outline you can use for your own organization.

STEPS FOR CREATING YOUR LONE WORKER POLICY
1. IDENTIFY LONE WORKER ROLES
"Lone worker" is a broad term that includes not only those employees who work completely by themselves, but also anyone who works at any time without being seen or heard by a coworker.
You can quickly identify employees as lone workers, such as maintenance personnel who work alone in an industrial setting or delivery drivers who are on the road. Others, however, may not be so easily identified, since many lone workers don't work in continuous isolation in the field or remote locations. Some examples include a worker who periodically is checking some readings in your company's facility, team members spraying or blasting parts in a booth and personnel who work after-hours in service call-outs.
Surveying your employees can help surface less apparent lone-working situations, helping you to identify all of your lone workers. Look for employees whose circumstances may fit these descriptions:
They travel by themselves at times
They work alone when their only other coworker is absent
They sometimes work alone on the job site or in the office after everyone else has left for the day or at the end of a shift
They usually work as part of a pair but are regularly separated at times during their workday
They work after-hours as part of your on-call service team
They work near another employee but noise levels or obstructions would prevent them from being seen or heard in an emergency situation
They work in public places but their roles may bring them in contact with aggressive or potentially violent people
2. ASSESS THE RISKS
Risk assessment is comprised of identifying the ways in which employees may be harmed in their workplaces and evaluating the effectiveness of your organization's measures to control the risks.
The UK government's Health and Safety Executive (HSE) offers an overview and resources for how to assess the risks in your workplace. Its step-by-step guidance includes processes for:
Identifying the hazards: Risks can be easy to miss in an environment that's very familiar, so it's important to make a thorough and careful assessment of the procedures, activities and substances that can cause injuries or threaten health. Tips for identifying hazards include reviewing instructions and data sheets from the manufacturers of equipment and chemical, reviewing your organization's accident records, analyzing your company's illness and communicable disease prevention guidelines, taking account of operations that are not routine (such as periodic shutdowns or changes in production methods) and assessing long-term hazards (such as noise levels).
Identifying who is at risk of being harmed and how: Ask employees which hazards they see and what measures they think should be taken to control the risks. Also identify the various groups of people who may be harmed, such as storeroom employees or those who take deliveries of heavy items. Keep in mind the unique needs of people with disabilities, temporary or contract workers, remote workers and others as you make your assessment. Also consider visitors, customers, service workers and anyone else who may have occasion to be in or near your workplace or job site.
Evaluating risks and deciding on precautions: For every hazard you identify, consider how likely it is to cause harm and at what level. Assess what safety procedures or precautions you already have in place and whether they are proportionate to the level of risk. Decide if the risk can be removed altogether or how you can reduce the risk to decrease the potential for harm. It's important to involve employees in this evaluation and your proposed precautions — they can help determine whether a solution is practical or if it creates new risks.
Recording your findings: Create a document to record your most significant findings. The record can be simple and should focus mainly on how risks will be controlled. Use it to demonstrate that a proper check was completed, you involved people who may be affected, you considered all of the significant risks and that the precautions already in place, or that will be put in place, are reasonable. Put the hazards you've identified in order of importance to ensure that the most serious ones are addressed first.

The HSE provides a simple but useful template for recording your findings as you answer these questions:

What are the hazards?
Who may be harmed and how?
What are you already doing?
Do you need to do anything else to control the risk?
Who should take action?
When should the action begin?
3. DEFINE LONE WORKING PROCEDURES AND PRACTICES
This section of your policy should be clear and simple, offering practical guidance on working alone safely. Your own procedures should be tailored to your company, employees and industry, but most policies should include this fundamental information:
How to summon help in an emergency
How to safely evacuate a hazardous scene
How lone workers' locations and conditions will be monitored
Who will be notified, and how, in the event a lone worker cannot be contacted
How workers' environments will be monitored for hazards, such as the presence of gas
How frequently the worker must check in, and to whom, while working alone
Which types of personal protective equipment and safety devices are required when working alone
Which tasks can and cannot be performed when working alone
What types of incidents must be reported and how
4. DEFINE RESPONSIBILITIES
When it's time to apply it in an emergency, a lone worker safety policy is only as effective as the people who implement it. Ensure that responsibilities are clearly stated in your policy, with lone workers and managers understanding the responsibilities assigned to each of them.
5. PROVIDE RESOURCES
No single policy can take into account every type of emergency situation. Ensure that your policy provides information on additional resources that employees can use to:
Find more in-depth information on safety measures and policies
Access additional instruction or training
Get answers to questions about the lone working policy
Report new or overlooked hazards for lone workers
Submit suggestions for improving lone worker safety
6. KEEP YOUR LONE WORKING SAFETY POLICY CURRENT
Working conditions and their associated risks, employees' roles, safety regulations and your industry change over time. As part of your overall safety training and program, schedule regular reviews of your policy, updating it as needed. Identify new processes, equipment and substances, and repeat your risk assessment for each. Consider any new roles that may have been created in association with new procedures and whether people in these roles will be exposed to previously unidentified hazards.
Also consider soliciting feedback from lone workers, managers and safety team members who can identify any gaps in your original policy. Your regular review is a good time to confirm that new employees are being provided with all of the resources and education they need to keep themselves safe.
SHARE AND PROMOTE YOUR LONE WORKING PROCEDURES
Your completed lone working policy should be distributed to all employees. When you share the policy, make sure that the employees who fit your description of lone workers understand that the policy applies to them, including contractors and temporary employees.
To ensure the success of your new lone worker safety policy, focus on ways to bring people together to discuss it. Whether it's a meeting or workshop, this is your opportunity to convey why the policy is important and how it will help employees. Be as transparent as possible — tell employees why the policy was created, talk about how you assessed the risks and identified lone workers and ask for questions and feedback. Let employees know that the lone working policy will be reviewed and updated at regular intervals, and that their input is an important part of continually improving it.
LONE WORKER SAFETY SOLUTIONS FOR YOUR INDUSTRY
At Blackline Safety, we meet the lone working monitoring needs of companies around the world in the most challenging environments. Whether you employ personnel who work alone at remote outdoor locations or in hazardous indoor environments, we have a safety monitoring solution for every industry, role and scenario.
These are just some of the industries we serve with our lone worker monitoring products:
UTILITIES AND PUBLIC WORKS
Utilities and public works personnel often work alone at high-voltage substations, treatment plants, natural gas distribution and telecom.
Industry statistics show that electrical-related incidents are the number one cause of workplace fatalities in the utilities and public works industries. Each year in the U.S., more than 4,000 people are injured and 300 perish due to electrical hazards in the workplace. Incidents also occur in natural gas and water sectors.
Our lone worker monitoring solutions can help every member of your team work more safely, particularly those who work with or near toxic chemicals and gases, contaminated water, high-voltage materials and more.
OIL AND GAS
Both indoors and outdoors, lone workers in the oil and gas industry are exposed to a number of risks. Your operators, mechanics, technicians and even lab workers may work alone, on an everyday basis or intermittently as part of their normal routine.
Statistics from the U.S. Occupational Safety and Health Administration (OSHA) show that the fatality rate for the oil and gas industry is seven times greater than that of all other U.S. industries. Seven types of incidents are particularly prevalent:
Vehicle accidents, the number one cause of fatalities in the oil and gas industry
Struck-by, caught-in and caught-between accidents, especially during dangerous oil extraction
Explosion and fires
Falls, which injure more than 42,000 oil and gas workers each year according to the Canadian Centre for Occupational Health and Safety
Working in confined spaces, such as storage tanks, containers and excavated areas, particularly when flammable gases or vapors are present
Chemical exposures
Working in remote locations
We have real-time monitoring solutions that optimize emergency response time to injuries, health incidents and more. With Blackline's technology, responders can be directed to a precise outdoor location or the exact indoor floor and room.
NATURAL RESOURCES
The miners, loggers, geologists, land surveyors and others who work in the natural resources sector are often at extremely isolated sites around the world. Thousands of incidents occur each year that injure lone workers in this industry, with mining at the top of the list of the most hazardous occupations in the world.
Whether your employees are in forestry, mining, or another natural resources profession, Blackline Safety's lone worker monitoring products can improve the outcomes of these types of incidents:
Falls
Electrical accidents
Cave-ins and explosions, especially during the trenching and excavation processes in mining
Falling trees, which account for a high rate of fatalities in the logging industry
Driving, whether during long-haul transportation of goods or simply traveling between sites
Cold stress, which can lead to frostbite, hypothermia, or death from exposure
Heat stress, which can result in heat stroke or heat exhaustion
Burns caused by accidental contact with steam or hot surfaces
GOVERNMENT
Workers in public-facing positions in transportation, prisons, public safety, healthcare, sanitation, parks and other services that the government delivers often meet the definition of lone worker. The U.S. Bureau of Labor Statistics reported in 2013 that nearly 500 work-related fatalities occurred in government sectors, and almost 6,000 local and state government transit and intercity bus drivers sustained injuries while on the job.
Blackline Safety's work-alone devices have features such as lights that let workers know their safety is being monitored or that help is on the way, manually triggered silent emergency alerts, and our proprietary indoor location technology that pinpoints employees' locations.
ENGINEERING AND CONSTRUCTION
Fatalities in the construction industry comprise an estimated 20% of all occupational fatalities in the U.S. and 31% in the U.K., making construction sites one of the most dangerous workplaces in the world.
Blackline Safety's lone worker solutions can help you reduce emergency response times in the event one of the engineering and construction industry's "fatal four" occurs: falls, caught-between accidents, electrocutions and struck-by accidents.
HEALTHCARE
Healthcare workers do their critical jobs in high-risk, high-stress environments, where thousands of incidents occur each year. According to OSHA, hospitals alone accounted for more than 250,000 work-related injuries and illnesses in 2011.
From technicians in research labs to paramedics on the road, healthcare workers face increasing dangers, including crimes committed against them. Blackline Safety can help you protect your healthcare employees with technology that gives you the ability to respond to health incidents, injuries and more in the shortest time possible.
MANUFACTURING
Staying competitive in manufacturing means long hours spent working in environments where fatigue and physical demands can lead to accidents. The risks can be high when employees are working with the heavy equipment, chemicals, conveyor belts and other elements manufacturing relies on. Add the noise and fast pace of a production plant or warehouse, and it's clear that a comprehensive safety monitoring program is essential.
If you employ operators, engineers, assemblers and other workers, you are likely to have dealt with the hazards that heighten these types of safety concerns:
Accidents while handling materials in raw, in-process and ready-for-market states
Lockout/tagout accidents that occur when machinery has not been properly disconnected
Complacency, which can lead to injuries or fatalities while operating heavy machinery or forklifts, or working around moving vehicles
Inconsistent maintenance, which may result in machine malfunctions
When an incident occurs, accurately pinpointing your employees' precise locations is critical to the fastest possible response. Blackline's lone worker technologies can help you stay prepared to reach crew members quickly, whether they work outdoors or indoors in a vast manufacturing facility.
BIOTECH AND PHARMA
Compliance with safety regulations and the ability to quickly respond to a workplace emergency is essential for companies that employ workers in biotech and pharma. Scientists, technicians, physicians, factory line staff and others often work in complex environments or beyond the sight and sound of their coworkers.
When an accident, injury or other incident occurs, personal protective equipment (PPE) is not enough when an emergency response is needed. The best safety protocols for your biotech and pharma employees who work alone include a lone worker policy and the most reliable devices for summoning responders. Blackline's technology can be used to direct responders in real-time to a pinpointed location inside your lab or research facility.
TRANSPORTATION AND LOGISTICS
Employees in the transportation and logistics sector face a number of serious risks, especially when working alone. Drivers, for example, may spend long hours behind the wheel, risking fatigue that can lead to truck accidents, while warehouse personnel are exposed to the dangers of operating large, heavy equipment and moving products. Workers in all types of roles in transportation and logistics may qualify as lone workers when they can't be seen or heard by coworkers in a noisy environment.
Blackline Safety's technology makes it easier to monitor lone workers, providing live, real-time information and audible, text and email alerts that accelerate your organization's emergency response capabilities.
LET US KNOW HOW WE CAN HELP
All types of technology have enabled more employees to work alone and/or remotely, but few innovations are focused on keeping lone workers safe no matter what type of job they have or where they work. At Blackline Safety, we can help elevate your safety monitoring program with 3G and satellite communications, GPS and proprietary indoor location technology, automatic incident detection, and manually triggered alerting to keep all of your lone workers safer on the job.
Our lone worker monitoring devices can help improve outcomes after a safety incident, reduce work-related injuries and fatalities and ease lone workers' workplace stress that can lead to accidents. We have solutions that give you real-time safety status of your employees who work alone and meet your most critical safety challenges — get in touch to discuss how these solutions can help your organization.